Title: Love Lasts Forever…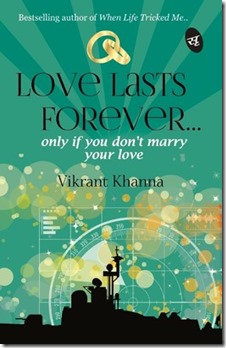 Author: Vikrant Khanna
Publisher: Srishti Publishers Distributors
ISBN: 978-93-82665-17-5
Number of Pages: 248
Price [INR] : 150
Genre: Fiction
Blurb
So you think your love can last forever…? Get married!
Eighteen year old Ronit falls madly in love with Aisha the moment he meets her at his graduation day from a naval college. He believes he has found his perfect soul mate, and come what may, his love for her will last forever. Seven years later, he gets married to her. Big mistake!
A week later he completely hates her and believes she has turned into a devil.
But his perception about love and life change when he hears the poignant love story of Shekhar, his Captain, on a ship that later gets hijacked by the pirates of Somalia.
As they are left fighting for their lives they confront if love truly can last forever…? But does it get too late?
Meet the Author
Vikrant Khanna is a captain in the merchant navy. He was brought up in Delhi and studied in Tagore International School, Vasant Vihar. His first book "When life tricked me" is a national bestseller and has been widely appreciated. His interests apart from writing include playing guitar, composing songs, cooking and teaching underprivileged children.
You can contact him at viks.khanna@gmail.com or catch him gossiping on Facebook and Twitter.
Love Lasts Forever is available at Flipkart, Amazon.