My theme for this year's Blogging from A to Z April Challenge is Feelings and Emotions from A to Z in 55 Words. Today, O is for Obsessive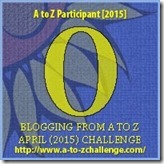 I roll my eyes, when you mess it up.
I cringe, when you miss the basics.
I judge, when you're unreasonably rebellious.
Why don't you understand, it's all for your own good!
"Your a freak?", you spat it out.
Aah! The apostrophe and E is ignored, again. You must be banished to the extermination camp.