Knowledge is power. Information is liberating. Education is the premise of progress, in every society, in every family. – Kofi Annan
Knowledge is power, there's no denying to that. And it is all the more important for students. But as Samuel Johnson said, 'knowledge is of two kinds. We know a subject ourselves, or we know where we can find information on it'. While, the former is not possible for most of us, it is the second option that we all must be familiar with.
BrainBuxa.com aids in doing exactly that. Yes, it helps students find all the information that they may need to educate themselves, socialize, communicate, and even employ themselves online.
BrainBuxa is an education portal where on a click of a button, the students get all the information and resources they'll need for shaping their career and future.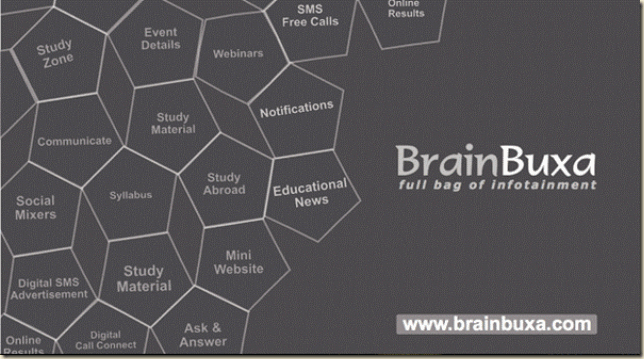 At a single portal, one can all the details pertaining to:
Institutes : The details of various colleges and universities are listed in this section from various fields viz Animation VFX, Arts, Computers, Gaming and Comics, Design, Engineering and Technology, Fashion and Design, Hospitality, Aviation and Tourism, Law, Language and Teaching, Management, Medicine, Beauty, Healthcare and Science. So, one can select a course and search colleges and institutes offering it along with the overview of the institute and contact details.
Results : Brainbuxa has tied up with various colleges and universities and universities to publish results and notifications online. Results of the exams are listed month wise. What's best is one can get SMS alert when the results are announced.
Study Materials : There's a digital library on BrainBuxa where students can read and create study material online. There are lecture series and video courses on various topics delivered by professors from renowned colleges and institutes. There are over 10,000 videos and notes available to students.
Events : This section has events and fests listed from various colleges and institutes. You can promote events and fests on this website too.
Jobs : The last I checked, there were 16480 jobs and internship offers listed on BrainBuxa. One can search jobs based on company name, location, skills and job title. Oh yes, you can upload your resume too and get notifications for the jobs matching your skills, profile and area of interest.
Blogs : In this section one can find inspiring and informative educational blog and articles on various topics related to the field of education. Here viewers get access to the best blogs on academic issues, post their responses, and share valuable insight with top experts on the web. One can even post their education news and articles on BrainBuxa.com and get wider reach and knowledge / information sharing of their thoughts and views.
Ask & Answer : In this section students can post their query or technical questions and get the answers from experts. Guidance and counselling is also arranged through information provisioning and real time interfacing.
What's more at BrainBuxa is that it provides all the information like the way we use social media. Yes, it's all replete with notifications, alerts, call and chat features. So, basically both the social and educational life of students are integrated on one platform. Now, isn't that cool!
Brainbuxa also provides free SMS facility for various services and updates. With more than 24000 followers, they certainly are at the top of the game.
With their huge database, BrainBuxa is truly the one stop information portal for students, as it helps to make an informed choice. It provides accurate and instant educational information on the courses offered at various colleges and institutes all across the country, study materials and informative articles. It also helps them to get exam results and job placement notifications. What's more, it is absolutely free to use, all you need to do is to just sign up at BrainBuxa.com
The website has a simple layout which is user friendly and is easy to navigate. BrainBuxa.com is a one stop destination for all information on education and job market, and definitely a must-use for all youngsters and their parents too. Go on and explore and discover new way to communicate, socialize, search, employ and educate at BrainBuxa.com