The Bestseller She Wrote
Title: The Bestseller She Wrote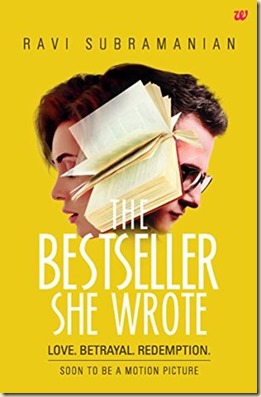 Author: Ravi Subramanian
Publisher: Westland Ltd
ISBN: 978-93-85152-38-2
Number of Pages: 391
Price [INR] : 295
Genre: Fiction
Aditya Kapoor has it all… a successful banking career, literary stardom and a loving wife. While giving a lecture at his alma mater IIM-B, he comes across an overly ambitious and reckless student, Shreya Kaushik who gets his goat when she questions his beliefs. Their paths cross again as Aditya's bank hires her as a Management Trainee.
Aditya is bewitched by her and she appears to be besotted by him too but has a one point agenda. She wants him to help her become a bestselling author. What starts as fun, soon turns Aditya's perfect world into big time trouble and chaos.
The Bestseller She Wrote is a story of love, betrayal and redemption.
I have read Ravi's three earlier books and love his entertaining and enlightening banking thrillers. The Bestseller She Wrote is what the author calls it as a romance-intrigue. The book has facets of banking along with the publishing industry and a bit of romance. The book brings to light some fascinating insights into the lives of authors and publishing industry along with politics in corporate banking. It surely gives a lot of inside dope on how to make it big in the literary world and also the general practices adopted by the writers and the publishers. The Bestseller She Wrote is labelled as a fiction, but it is reality that is seen all across the book.
The extra-marital affair from a man's perspective, the ego boost that he gets and then the guilt and remorse for rocking his family's happy boat and still loving the other woman is interesting.
The writing is simple and the characters are beautifully etched and quite a few can be identified from real life. The story flows effortlessly with some twists and turns which keeps you glued to the book.
Now coming to what didn't work for me in The Bestseller She Wrote. Well, it's the climax! It was dull and flat and so very hurried. It did not match with the tone of the rest of the book and was jarringly out of place. The person who was turned into the bad guy in the end didn't have any shade of grey during the course of the story! Of course, in a thriller one gets to know about the antihero only in the end. But some subtle hints or distorted beliefs in the story about him, could have made him a convincing or a believable villain. The end was a bit disappointing for me.
Having said that, The Bestseller She Wrote is a fast paced story which is entertaining and engaging along with being insightful and informative.
Go for it!
I am reviewing 'The Bestseller She Wrote' by Ravi Subramanian as a part of the biggest Book Review Program for Indian Bloggers. Participate now to get free books!