10 Bookish Confessions #NationalBookLoversDay
August 9 is National Book Lover's Day! It is a day to celebrate the love of the written word. Today is my day as I am a bookworm and proud of it. I thought of commemorating this day by talking about my 10 bookish confessions. So, read on and be shocked, aghast,  stunned or may be amazed at my bookish confessions.
1. I have 268 physical books (fiction and non-fiction) in my book cupboard and 622 books on my Kindle. These 268 books do not include our cook books, encyclopaedias and children's books. Last year, I donated some 150+ books, so these 268 books is my coveted and curated collection.  I cannot resist myself from buying books and browsing through Kindle books on Amazon is my favorite way to spend time. No marks for guessing that I am not spending all the time just looking at the books. 622 speaks for itself!
2. I was that girl who believed in the smell and feel of a new book, loved caressing the glossy cover with my fingers, and arranged and re-arranged the books by genre, size, colours… but all that has changed. Kindle has truly transformed my reading habit and has made me more addicted to the written word.
3. I love buying paperbacks even though I am a hard-core Kindle fan. Books are number 1 on my list of things to give as gifts.
4. I do not step out of my home without my Kindle. I read everywhere and anytime is a good time to read books.
5. I read in bed. It is absolutely my favorite place to read.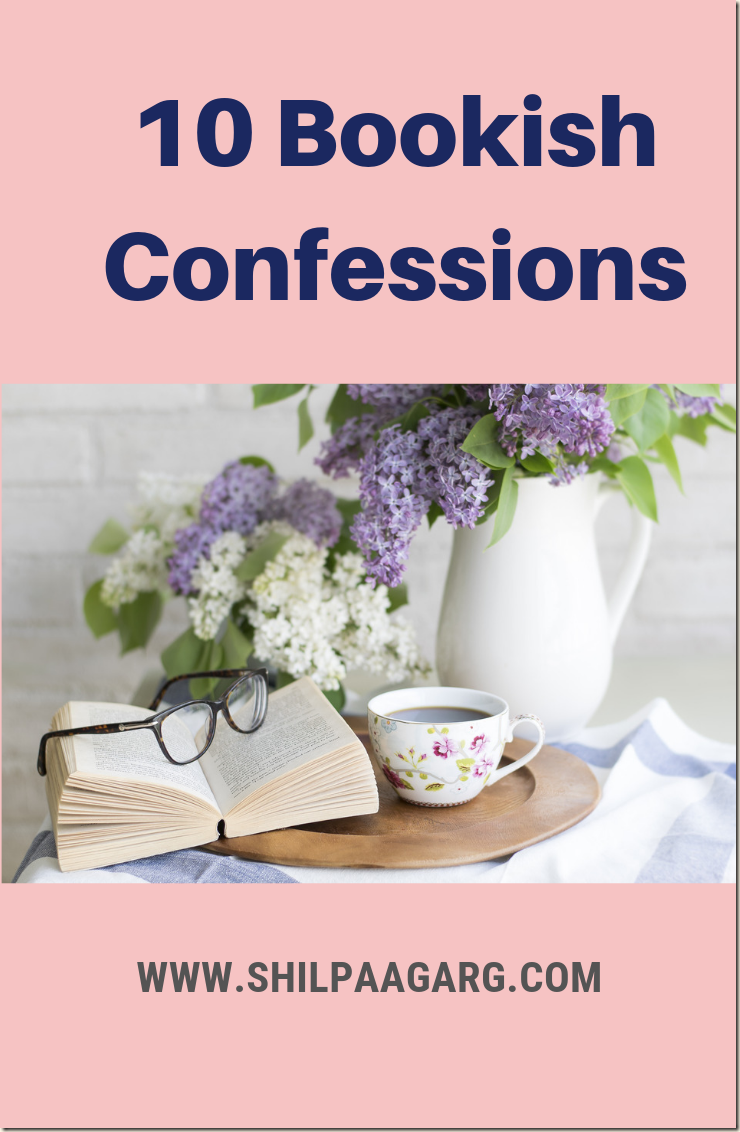 6. Once I finish reading a book, I have to pick the next book immediately.
7. I have this terrible habit of reading ahead. I hate spoilers, but sometimes when the suspense is unbearable in a story, I just read the last page. I HAVE to know that the main characters are ok in the story and I just can't help myself!
8. Usually, I read page by page unless a part of the chapter really drags. In such a case, I skim through the pages that follow until the story picks up again.
9. I stop reading when the words stop registering for a not so great book. But with interesting books, I always stop reading when the chapter ends.
10. I don't lend my books, so I don't borrow either.
Do we share any of the same bookish confessions? What are some of your bookish confessions that you'd like to share?