Conzumr.com : A Website Review
Remember the times, when we would drive around the city and visit some 5-6 shops and check the deals offered and then drive back to shop no.1 to buy the object of our desire.
Then as the technology picked up pace in adaptation and evolution, so did our acceptance for online shopping. But our desire to get the best deal and offers remained the same. So, we would check some 2-3 shopping portals by opening multiple tabs on our computer and compare the product. All this could be a bit overwhelming as sometimes, the same product would not be available on all the sites and sometimes we wouldn't even know that some great deals were available elsewhere on other shopping portals.
Like everything else, ecommerce world has evolved too. Today we have websites that help the online shoppers to make an informed decision. Yes, these are the comparison shopping sites. These websites collect product information, including pricing, from participating retailers/ecommerce portals and then display that collective information on a single results page in response to a shopper's search query. In this way, shoppers can compare the product specifications of various brands/models, prices offered by the various online stores on a single page and choose the merchant that offers the best overall value.
I came across Conzumr.com which is a new search and comparison website that aims to educate consumers so that they make a rational and fact based purchase decision. It has over 4500 listed in various categories like Books, Electronic Goods, Sound and Vision, Fitness, Health Care, Home Appliances, Baby & Kids, Kitchen Appliances, Personal Care and Tablets & Smart Phones.
Conzumr.com provides detailed product specifications, features, reviews & ratings and comparisons to enable online shoppers do their research before taking informed buying decisions.
The first thing that caught my attention was the logo. One look at it and you get what Conzumr.com is all about. It truly represents the business that Conzumr.com is in.

The website has a layout that's simple and appealing, with a navigation which is easy too. A large search bar at the top of the page has an instruction 'Search…Product, Model No. or a Brand which basically tells the online shopper that they can Search > Compare > Decide by using this tool. Of course, the instruction text goes away when the user clicks to type or activate the box.
The various categories have drop-down menus that break down top-level buttons into sub-sections. Each of the sub categories can be viewed and compared by Brands, Prices, Product Specifications. For example, if you'd like to check out Built-in Ovens, then you can compare the various brands on the basis of prices, size, capacity. The various models can be selected and compared and seen in a side by side view.
The main page has links to Review Videos, Popular Product Comparisons, Latest Conzumr Reviews and Conzumr Guides and Tips.
I thought of comparing the three models of Kindle. In one table, on a single page, I got to know the products features and prices of Kindle, Kindle Voyage and Kindle Paperwhite. Considering all the options, before we buy something is a smart strategy. With many options to choose from, it's important to examine all features and functions of the various models and also look at cost effective option that meets our needs.
Once, I chose the Kindle that suited my requirements and budget, I clicked on the link which took me to the shopping store's website directly and all I had to do was to follow the regular steps of online shopping. Yes, it was that simple and easy to make an informed decision with Conzumer.com.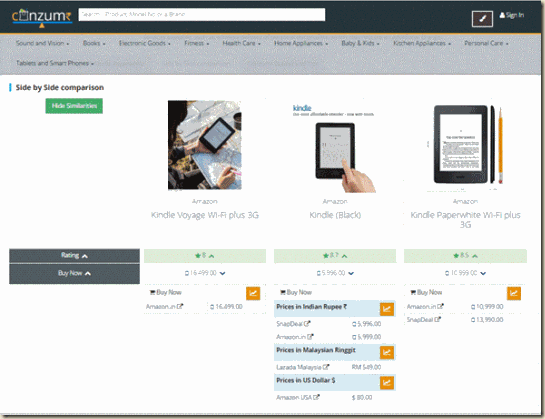 I checked about the Boxed Set of Harry Potter series and was surprised to see the price variations across 8 online stores!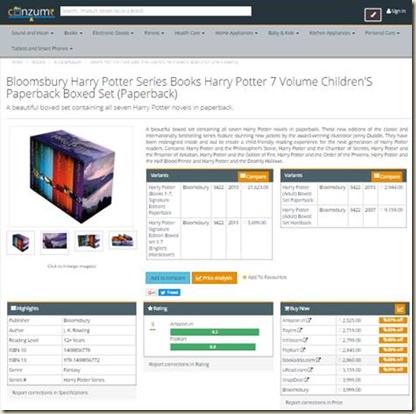 Comparing a product on Conzumr.com helps you to
Research and dig a bit deeper before you shop
Get to know the products in the category
Find a good deal
Make informed buying decision
More products and categories on Conzumr.com would make it a more comprehensive site for comparison shopping. The site works fine on most mobile browsers but a mobile version of the site would increase its reach. More prominent social media presence can boost the online presence of the website.
Conzumr.com will be my go-to page for online shopping to research, compare and make informed buying decision. Do you check comparison websites before shopping online?