The Jadoo of Your Love!
Title : The Jadoo of Your Love!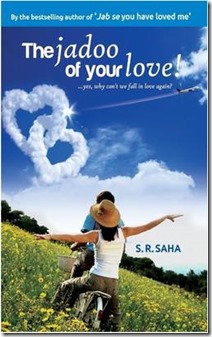 Author : S R Saha
Publisher : Srishti Publishers & Distributors
ISBN : 978-93-82665-00-7
Number of Pages : 158
Price [INR] : 100
Genre: Fiction
From the Blurb : In the final year of college, Anurag's life was falling apart- he vowed never to see Aditya, his best friend of many years again. Of course, what Aditya did was unpardonable.
Not just losing his best friend, Anurag's love Urmi too got married to someone else the day unemployed Anurag got the job of a flight purser in an airline company.
But life has its own twists and turns, and one never knows where it will take him. Anurag too could have never imagined all that happened thereafter.
In this page-turner of a spellbinding novel, every reader would ride the crests and troughs of myriad emotions- love, hate, anger, depression, excitement and joy that fill life's every moment and savor the essence of true love that is mystic and magical.
Review : The Jadoo of Your Love! is S R Saha's second book. And this is his first book that I read. The Jadoo of Your Love! is a story of Anurag which is divided into 3 phases… his college life, his job as a flight purser and his career in the film industry.
The book is written in a first person narrative style which is pretty interesting because as a reader you get to understand Anurag's world from his perspective, the way he sees and experiences life around him.
The story is fast paced and has all the ingredients of a Hindi potboiler movie. The language is simple. I liked the insights shared about career and life in the aviation industry. A small aircraft picture on top of each page and the chapter titles inspired by Hindi movie songs are strikingly different.
The story at times appears to be a bit unrealistic or filmi. But guess, it is ok to take creative liberties in a book 🙂
This is a 155 page book which I finished reading pretty fast. Overall, The Jadoo of Your Love! is a time-pass-one-time read. Go ahead and pick it up for your small journey, you'll not be disappointed!
Rating : 3/5
Linking this post to the Ultimate Blog Challenge and October's NaBloPoMo.