When You Became My Life
Title : When You Became My Life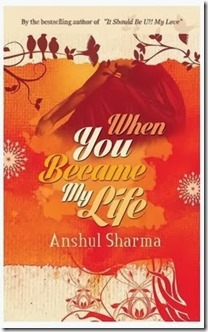 Author : Anshul Sharma
Publisher : Srishti Publishers & Distributors
ISBN : 978-93-82665-02-1
Number of Pages : 184
Price [INR] : 100
Genre: Fiction
Neev's life is marked with catastrophes; after losing his parents and almost everything he owned, he finds refuge with his friend Aadi in Agra. Living with an old friend in a new house, busy with a new job in a new environment revives him, somewhat. And then, life happens. As he bumps into love and tries to keep running away from it, love follows him as Aashi – a small-town girl with larger than life aspirations and a novel dream. Neev sets out to fulfil her dream but he has to pay a cost for it. Either love, or life. What will he choose to let go?
When You Became My Life is a story spun by destiny. It is a story of a young boy who takes it upon himself to defeat all odds and be one with love.
I started reading this book today and finished it in 2 hours. Speaks a lot about the book. The plot is different, the story is fast paced and in no time you are hooked to the story of Neev, Aashi and Aadi. The story in When You Became My Life runs in two parts. The first part roughly showcases Neev's life before Aashi became his life and part 2 is when she became his life. I liked part 1 more as part 2 was too filmi for my taste, though there are constant twists and turns that keep you engaged with the story.
Characters are well etched though they have their flaws and charms thus making them very believable especially Aashi's character. The author manages to capture the emotions, the insecurities, the dilemma of the love birds well. The dialogues at times sound  a bit forced, unnatural and artificial. Editing leaves a bit to be desired too.
Overall, When You Became My Life is a time-pass-one-time read. Go ahead and pick it up for your small journey, you'll not be disappointed!
Rating : 2.5/5