The Storm in My Mind
Title : The Storm in My Mind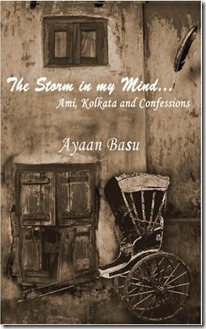 Author : Ayaan Basu
Publisher : Srishti Publishers & Distributors
ISBN : 978-93-80949-99-2
Number of Pages : 158
Price [INR] : 100
Genre: Fiction
The Storm in My Mind… is a collective narrative of events, habits, stereotypes and idiosyncrasies revolving around the contemporary society of Kolkata. It is a story of love as much as it is of hatred, passion, friendship, trust, misunderstandings, nostalgia and love for his city. It is the story of Aryan, his Kolkata and his mellowing heart that makes confessions of the times he has seen.
Aryan meets Anushka while he was exploring different chat rooms of Yahoo Messenger and falls in love with her. She considers him to be her good friend and rejects his love. This rejection and dejection creates a storm in his mind and leaves him confused. They meet again a few years later, build on their relationship and she rejects him yet again. Aryan then falls in love with Anushka's friend, Kaira. They seemed to be good together and when everything was falling in place, Anushka comes back again in Aryan's life and shares a secret about Kaira's life. Well, to know what happens to their relationship, you'll have to read the book, which is a quick and easy read.
The characters are real who deal with real-life issues. Their thoughts and dialogues are believable. Written in an autobiographical style, the story uses simple language and at times has  Hinglish too. The pace and flow of the story is just right and does not let's your attention waver. The plot is simple and ordinary without many twists and turns.
I quite liked the cover which gives the feel of an old Kolkata but is in contrast to the storyline of The Storm in My Mind which is set in contemporary Kolkata. The book mentions tidbits about the some of the most frequented places, some history, the food etc, but does not gives you that feel or spirit of Kolkata. So the tagline of the book, Ami, Kolkata and Confessions should be actually Ami and Confessions though there aren't any confessions actually.
The Storm in My Mind is a good first attempt by the author. A quick and a breezy time-pass read.
Rating : 2/5