Spine Poetry – 11

The concept of book spine poetry appeared in 1993 with Nina Katchadourian's Sorted Books project. Katchadourian began collecting interesting titles and arranging them in clusters so the spines could be read like a sentence(s) or poem.
Katchadourian's Sorted Book Project manages to become more than an experiment in medium. Her playful photographed poems are sometimes cleverly arranged jokes or amusing images, but at other times, they are short and stunning thoughts on the nature of art and artists. You can see all the series at her website.
Here's my today's poetry story with books…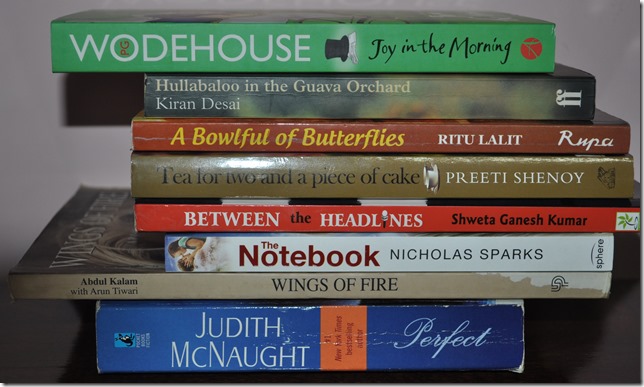 Joy in the Morning
Hullabaloo in the Guava Orchard
A Bowlful of Butterflies
Tea for Two and a Piece of Cake
Between the Headlines
The Notebook
Wings of Fire
Perfect
Linking it to January 2014 Ultimate Blog Challengeand NaBloPoMo
To read posts by fellow friends and UBC and NaBloPoMo participants, click here Jairam,Kajal, Kathy, Michelle, Nabanita, Richa, Suzy Que, Sheethal. Yes, we can do we with some more cheering and support.