Prisoner Jailor Prime Minister
Title: Prisoner Jailor Prime Minister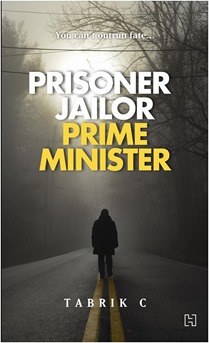 Author: Tabrik C
Publisher: Hachette India
ISBN: 978-93-5009-670-3
Number of Pages: 319
Price [INR] : 350
Genre: Fiction (Political Thriller)
India has a new Prime Minister but is Siddhartha Tagore the product of his genius or of his dangerous mind?

India is on edge, as a subversive internal revolt against the Constitution and the threat of Jehadi terror of an unthinkable level, are looming on the horizon. Ringing Shiva's damaru in and out of Parliament, a sudden turn of karma catapults outsider Siddhartha Tagore – a conflicted genius, music maestro and prodigal son, with forceful views on China and Pakistan into national prominence as the head of the Opposition Alliance and finally as the newly elected Prime Minister of a disturbed nation.

But buried secrets are being resurrected and threaten to expose the past. Twisted within the double helix of menacing politics and hidden lust, Prisoner, Jailor, Prime Minister is a scorching account of Siddhartha Tagore's fascinating journey from Harvard to 7 Race Course Road.
I am not a big fan of politics but I am all for thrillers. When the opportunity to review a political thriller arose, I wanted to check it out. And I am glad that I decided to go for this book. Prisoner Jailor Prime Minister with its well researched plot, sufficient twists and thrills and a fast paced story compels you to keep turning the pages one after the other.
The book is divided into 2 parts and has short chapters and flits between the past and the present smoothly. It took a while for me to warm up to the book, but once I did, I could not put it down. I found the second half of the book more engrossing and interesting.
I liked the personality that is etched for Siddhartha Tagore, the protagonist. The story revolves around him. He comes across as a pretty interesting character and despite his failings, you cant help but like him. Other characters in the story are the ones who are or were part of Siddhartha's life and they are very real and one can easily connect with them too.
At certain places, the author leaves a lot to the imagination of the reader, which I quite liked. And he also left a lot unsaid, giving clues, teasing the reader with some subtlety.
The incident about the nuclear explosion in the very first chapter suggests that India is under serious terror attack and one wonders how the new PM ie Siddhartha would tackle this grave threat. But it is disappointing to read about the nuclear attack again only towards the very end of the book. The relationship between Gordon and Krish Rathore could have been explored more.
Towards the end, I was wondering about the whereabouts of Gregory Templar, Siddhartha's roommate at Harvard. And soon enough I read about him and I was floored. It was truly an Aha! moment for me while reading Prisoner Jailor Prime Minister. I didn't see that coming at all!
Prisoner Jailor Prime Minister is not just a political thriller but it also deals with love and lust and dark secrets which certainly engages and thrills you.
Prisoner Jailor Prime Minister is definitely worth reading.
Rating : 4/5
This review is a part of the biggest Book Review Program for Indian Bloggers. Participate now to get free books!
Linking it to Write Tribe Festival of Words – 3 : Day 4 : Book Review