A Scandalous Proposition
Title: A Scandalous Proposition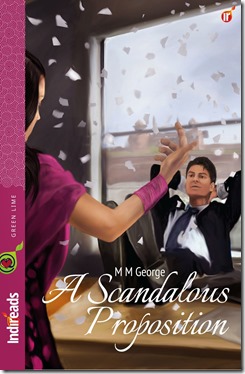 Author: M M George
Publisher: Indireads Inc.
ISBN: 978-1-927826-02-7
Number of Pages: 93 (Estimated)
Price [INR] : 250
Genre: Fiction, Romance, Contemporary
Type : eBook
"What is your price, Mira?"
"You'll never be able to afford it!"

Feisty, small-town girl Mira Talwar is just finding her feet in Delhi when she encounters the hottest bachelor in the country, Ranbir Dewan. The sparks flying between them sizzle with sexual tension, but when Ranbir puts a scandalous proposition before her, she turns him down spiritedly.

However, they have to work together to engineer a happy ending for their siblings, who have fallen madly in love but are too afraid to tell their respective families. The plan they cook up throws them more and more into each other's company.

Can Mira overlook Ranbir's indecent proposal and give love a chance?
A Scandalous Proposition is a Mills and Boon story in a desi setting. A hot, rich and obnoxious guy meets a middle class, strong-willed, traditional yet modern girl  and sparks fly between them, both verbally and physically. On their very first meeting, Ranbir makes a scandalous proposition to Mira. Though she refuses it, she is not immune to his brand of charm and the chemistry between them. How their lust blossoms into love and the rich bad boy turns into an ideal lover boy, you need to read A Scandalous Proposition to know that.
This short novella has a fast paced narrative that's vivid, clear and concise too. The chemistry between the two protagonists is delightful. The only thing that didn't work for me was the plot. I felt it was too unrealistic or dramatic or filmi. I know, it could be just me! Like, as if the social divide between the two was not wide enough, Mira and her sister are made to live with Ranbir's family, which I believe was simply over the top.
The story is well written and that compels you to keep turning page after page, till you reach the very end. Needless to say that I finished reading A Scandalous Proposition in a couple of hours and that too in one sitting!
An enjoyable read!
Rating : [usr 3 text="false" size=20]
 Linking this to July 2014 Ultimate Blogging Challenge and NaBloPoMo