The Zestful Experience
When Harish from Blogadda mailed me recently, inviting for a special event with 50 amazing bloggers at GOA!! Boy! Was I thrilled?
After sending him a confirmatory mail, immediately, my head started brimming with plans, thoughts and ideas for this gala event. The thoughts that dominated my days thenceforward was the excitement of meeting the virtual friends in real life and the exhilaration of being part of an exclusive event.
The experience of #ZestUpYourLife, Bloggers Meet at Goa courtesy Tata Motors in association with Blogadda at The Zuri White Sands Goa Resort & Casino was simply a ZESTful experience.
| | |
| --- | --- |
| ZEALOUS | The spirit, the warmth, the enthusiasm and the passion that the three teams comprising of Team Blogadda, Team Tata Motors and Team Zuri displayed in making our stay comfortable and enjoyable was simply remarkable. We were indeed treated like royalty. Our every query or concern was handled promptly and patiently and with a smile.  |
| EXCITING | It happened finally! Yes, at last we met the faces behind the blogs. With some, we hit it off like a house on fire, while some took a few minutes to open up and then there was no looking back. The laughter and the chatter over cups of tea and coffee and yummy food happened non-stop. They say, laughter is a great beginning for a friendship, and it was wonderful to connect with bloggers from different streams and passions. The group selfies and photo sessions are a testimony of the happy moments that we shared. |
| SPECTACULAR |  … was the event, The Tata Zest Launch Meet. The Master Class which was taken by the Product Specialists from Tata Motors was simply an enlightening one. Tata Zest truly is a technological advancement. The surprise of the day was meeting the charming and down-to-earth, India's first F1 driver, Narain Karthikeyan who shared about the engine technology in Tata Zest. Every little detail was well planned and superbly executed. |
| TREAT | … in every sense. |
Thank you Blogadda and Tata Motors for an experience that #ZestUpOurLife!!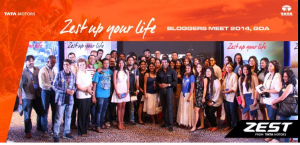 Images courtesy Deepak Amembal and Roshan Radhakrishnan! Pls click on the pics for a better view 🙂