Test Drive with Zest
Tata Motors' new car Zest is just about to make its debut in the Indian market.
After seeing the looks and test driving the Tata Zest, I must say that the team @ Tata Motors has done a spectacular job, as the car not only has a grand stylish look but is also a step ahead in technology.
Tata Zest has contemporary youthful design. It has a design that reflects emotions. There's a power bulge on the bonnet and sculpted and athletic body side with a signature Tata grille. The LED tail-lamps with homogeneous and wrap around looks along with projector headlamps are some new features that give it a distinct look.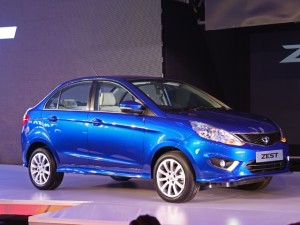 The interiors are modernistic and snazzy with a good leg, shoulder and headroom space. The dual tone look with beige and black color inside the cabin gives it an elegant look. There are accessory power sockets, cup and bottle holders, glove box unit through I feel that the car boot is a bit small.
This new car from Tata Motors is truly made to give a connected driving experience. It comes with an amazing and never seen before infotainment system. Zest comes with a Harman infotainment system which has a 5-inch touchscreen display.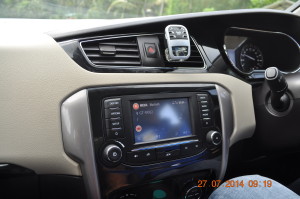 The music system supports AUX-in, Bluetooth, USB, SD card, iPod and FM/AM connectivity. So, howsoever you listen to your music outside the car, you can listen to it in the same way inside the Zest too. There are 8 speakers in car including both woofers and tweeters -installed at different locations throughout the car, each one producing its own sound to give a kind of concert quality of music.
At any given point of time 5 devices can be connected through Bluetooth in the Zest Infotainment System. The Infotainment System can be operated through voice commands. Through voice commands one can tune to FM stations by just saying, 'Tune to 98.3 or FM Preset 3' , play song in the Media by song name or album name or artist name. With voice commands even the contacts in the Phone Book can be dialed by just saying 'Call Kshitij' and SMSs can be read aloud too.  Even the Climate Control can be done by just saying 'Set speed to 4 or set fan speed maximum or set temperature to 24'. The best thing about this voice command feature is that it recognizes Indian accent. The audio-visual driver assistance during reversing is an additional feature.
As a co-passenger during this test drive (Yes, I don't drive!), I believe that Zest is a spectacular car from Tata Motors which is  a class apart with innovative features, connectivity and comfort.