The Slim Punjabi
Title: The Slim Punjabi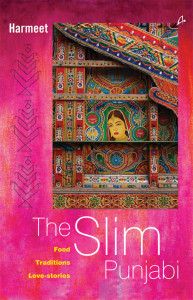 Author: Harmeet
Publisher: Amaryllis
ISBN: 978-93-81506-27-1
Number of Pages: 283
Price [INR] : 350
Genre: Food and Culture
The Slim Punjabi combines Punjabi culture and cuisine, and brings alive the fact that one could almost taste a culture through its food. The chapters, interspersed with the weaves of phulkari, poetry of Bulleh Shah, legends of Heer and Sohni and verses from folk songs hold within them traditional yet simple to – make recipes for classic Punjabi dishes. From phirni set in a mitti ka kulhad to a barbecue party under the winter sky, this book is a love story. It's a love story of a Punjabi and her food, when the food went beyond filling her stomach to her senses as well.
When I read the blurb of this book, I knew I HAD to read this book. For a Punjabi who has stayed at 4 states of the country other than Punjab and the stay at Punjab was limited to a visit of few days for vacations or marriages/functions in the extended family, I knew that this book would bring in nostalgia and would be like an education in the culture and cuisine of this exotic land which we have heard/seen from far. And am I glad that I picked this book?!
The Slim Punjabi is divided into 5 sections and are named after the 5 rivers of Punjab.
Jhelum gives insights about the staple foods (viz Rajma Chawal, Chitte Chhole, Stuffed Paranthas, Matar Paneer among other dishes); Punjabi music and dance.
Chenab shares the exotic foods (viz Dal Makhani, Kadhi, Sarson da Saag, Butter Chicken etc); legendary love stories of Punjab
Beas gives the glimpse of the snacky foods (viz Aloo Tikki Chaat, Kulche wale Matar, Mitthe Chawal, Dahi Bhalle etc); and Punjabi festivals
Sutlej offers the quick foods (viz Khichdi, Paneer Bhurji, Punjabi Rotis, Panjeeri etc) and Punjabi fashion and dressing
Ravi is all about accompaniments (viz Mattha, Pickles, Papads, Chutneys, Raitas and the unforgettable Langar wali Dal etc) and Sikh traditions.
What I loved about this book…
It took my heart to a time travel.  Though I was reading the various bolis (couplets from traditional Punjabi folk songs) and tappas, my mind was actually singing them as I remembered listening to these during the vacations over the years, at the two set of grand-parents' homes in Punjab. The recipe of Masala Gur simply tantalized my taste buds as memories of my Dadi making it from the scratch came live in front of me.
While I was nodding my head in agreement at the various traditions and the festivals shared in the book…
I was awe-inspired by the insights I gained about the rich mythology and folklore that included folktales and romances. It was interesting to note the myths and the popular accounts of the love stories of Heer -Ranjha, Mirza -Sahiban, Sassi Punnu, Sohni-Mahiwal. Though I have been listening to the verse and the hymns from the Guru Granth Sahib all these years, but I was not aware as to why ragas and music have been used to communicate the deeper meaning of this holy book. And when I read about it in The Slim Punjabi, the only word that came to my mind was 'Ingenious!'
The author has used a conversational and a humorous tone in this book. So, even reading recipes is a pleasure and am sure it would be enjoyed by even those who are inept at boiling water! There are more than 75 recipes in the book and they all come with the Harmeet's tips and twists.
Even the information shared on various festivals, traditions, fashion and dressing styles in Punjab is not at all preachy or dull.
What I believe could have been better…
Just one thing… coloured pictures of the dishes and may be the book as a hardcover! I understand this could have changed the commercials. But for me The Slim Punjabi is a book that will not just stay as a decorative in my library cupboard. It will be on my kitchen table on many evenings as I'd refer it to cook some authentic Punjabi recipes or my side table as I read it again to re-tell something about the traditions or culture of Punjab to my son.
The Slim Punjabi is a well researched and wonderfully presented book. A must read for all those who would love to explore and enjoy this rich culture of Punjab.
Rating : [usr 4 text="false" size=20]
This book review is a part of The Readers Cosmos Book Review Program. To get free books log on to thereaderscosmos.blogspot.com
Linking this to July 2014 Ultimate Blogging Challenge and NaBloPoMo