Live from the Train
I am on my way from Jaipur to Delhi, traveling by the Jaipur–Delhi Sarai Rohilla AC Double Decker Express Train. Have traveled many times by this train but somehow my seat is always in the lower deck. Must try to book a ticket such that I get to travel in the upper deck too. I know that seats aren't any different in the two sections, it is just that the view must be like seeing the world from top of the mountain, aah, well, just the upper deck! Silly desire!
I was struggling with my bags on the escalator and a young man made my day by helping me out. And a second ago, another man behind me on the escalator gave me an exasperated look as I wasted his few seconds! Life!!
The train has started at the right time and suddenly people around me are busy on the phones, all are giving  updates on the train status and then a quick bye. I think, some must be calling their spouses/mothers who would have gone back to sleep after seeing them off at the ungodly hour of 5 am and some must be harried in the kitchen preparing lunch boxes for kids or getting them ready!
This train takes you to Gurgaon in record 3.5 hours and it takes 4.5 hours to Delhi. And this is mostly used by daily commuters between Jaipur-Delhi. People around me are mostly office executives and almost all of them are working on their laptops and a few are reading newspapers. For a change, no wailing baby in the compartment!
The gentleman behind me is straining his neck and eyes to read what I am typing. I think the max that he can read is the post title because of its large font size. To read the post from that distance and with low screen brightness of my laptop , I guess, he would need super human vision.
A guy is drinking water from a Tupperware bottle. Wow! If I had given the same to KG, that would had been the last I would have seen of that bottle. Yes, we are responsible that way! On questioning (KG would read this as grilling !) about that Tupperware bottle, he would have answered flippantly, "Oh, it was just a water bottle!"  

An old lady near me is wearing her spectacles with the price tag still attached to the temple. Oh, wait!! She just removed her glasses and cleaned them and adjusted the price tag too!! I am very much intrigued now!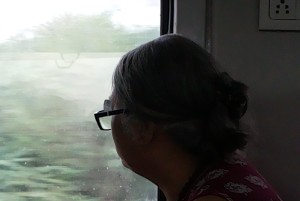 It's an hour into the journey and most of the laptops have been shutdown and newspapers are resting in the seat pockets. Finally, tiredness has caught up, while some are dozing, a few are snoring too.
I think, I must catch a wink too, as I know the forecast for my day ahead is, "a terribly busy day beckons!"
So signing off for now, you have a great day! Cheers 🙂
Linking this to July 2014 Ultimate Blogging Challenge and NaBloPoMo