N is for Naughty #AtoZChallenge @AprilA2Z
My theme for this year's Blogging from A to Z April Challenge is Feelings and Emotions from A to Z in 55 Words. Today, N is for Naughty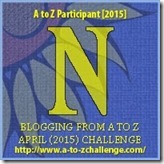 "What do you mean you are bored?
Being bored is a symptom of a closed mind. You are doing great harm to yourself this way!
Break free from the regular. Reignite the flames of excitement", he advised sagely.
"Come, let's do some 'we shouldn't be doing this' things", he added with a mischievous grin.
Join me in enjoying blogs from fellow A to Zers… Nibha, Nisha and Nancy,  today! Do share some blog love with them too!