M is for Misunderstanding #AtoZChallenge @AprilA2Z
My theme for this year's Blogging from A to Z April Challenge is Feelings and Emotions from A to Z in 55 Words. Today, M is for Misunderstanding.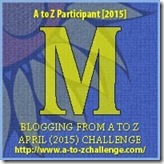 With his pen hovering over the notepad, the waiter asked, "Super Salad?"
I said, "Sure, why not!"
He gave me a frosty look and repeated with emphasis, "Su… per… Salad?"
"Yes, I'd like a Super Salad!", I answered pleasantly.
He looked daggers at me, when my friend nudged and whispered, "He's asking, Soup or Salad?"
Join me in enjoying blogs from fellow A to Zers… Monica Deshpande and Mayuri today! Do share some blog love with them too!