L is for Lazy #AtoZChallenge @AprilA2Z
My theme for this year's Blogging from A to Z April Challenge is Feelings and Emotions from A to Z in 55 Words. Today, L is for Lazy.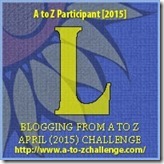 Exhausted, I climbed into the bed, ready to crash.
As I got comfortable under the covers, something stared back at me.
I dialled our landline from my mobile and asked for myself in a fake accent.
When Dad came to give me the phone, I asked him to turn the light out as he left.
Join me in enjoying blogs from fellow A to Zers… LuAnn Braley, Lata Sunil and Little Princess,  today! Do share some blog love with them too!