K is for Kindness #AtoZChallenge @AprilA2Z
My theme for this year's Blogging from A to Z April Challenge is Feelings and Emotions from A to Z in 55 Words. Today, K is for Kindness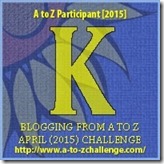 My infant baby cried at top of his small but powerful lungs during the flight.
All my efforts to comfort him failed miserably.
I could hear exaggerated sighs of other passengers.
I was nervous and ready to burst into tears when my co-passenger who was sitting patiently all this while, said, "You are doing great."
Join me in enjoying blogs from fellow A to Zers… Kaddu and Keith today! Do share some blog love with them too!