AtoZ Reflections #AtoZChallenge @AprilA2Z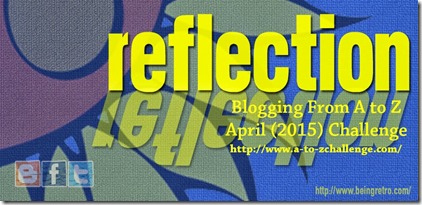 This year, it was my third April A to Z Challenge. After writing on random subjects and long posts in the first year and a theme based 55 word stories in the second year, I was clear that I would go with a theme based 55 word stories this year again.
Fellow bloggers in our little blogging group were sharing their count of scheduled posts as early as March and I was totally cool with my zero score. I don't know what gave an otherwise worrying cum panic attack queen me, such a carefree attitude and not getting worked up.
Towards the end of March, when I got to know my travel plans for April, my cool demeanour did a 180 degree turn. I was scheduled to be out of home for more than a fortnight in 4 different trips! Given the places I was traveling to and the super hectic schedules that I would be having then, my panic buttons were pushed to the maximum. While, I work well under pressure but this time the pressure got to me. I struggled to get the first few posts live on my blog. But then, I somehow managed to schedule the posts for the days I was traveling.
One day will be forever etched in my memory… It was April 23rd and I was leaving for Rishikesh later that night. That morning, in a span of six hours, I wrote six 55 fictions for alphabets U to Z. And it was an exhilarating moment when the story for letter X was written in flat ten minutes. I actually patted my back!
Flocking at fellow bloggers blogs and reading what they shared from A to Z is something that I liked the most. It was amazing to see such diverse themes and varied styles of writing. My reading plate was full of fun, interesting, insightful, inspiring and some beautiful writings. April A to Z challenge is a perfect time and place to explore some new blogs too. And I am glad that I came across some pretty wonderful blogs. I am hoping to read them regularly.
While writing, reading and commenting kept me busy from morn to night on non-travel days. The story is entirely different when I was out of home. The places that we travelled to this time had internet connectivity ranging from zero to poor. At some places, even the phone didn't work. So, the first day at these godforsaken but very beautiful places, I fretted and fumed, silently.  So desperate I was to read and comment on blogs of my friends through my phone, that at a camp site, I even climbed 40 steps to get on top of a water tank. Yes, you read it right… a water tank!! While two colleagues were coolly talking to their loved ones on their phones, the signals on my phone refused to oblige, even at that height. It was then I practiced my favourite mantra… Let Go. I used my smartphone as a clock and an alarm piece then on, and all was good. But once, I returned back to civilization, like a starved soul, I devoured reading, writing and commenting sometimes till as late as 3 am, much to the chagrin amusement of my husband!.. Naah! He just gave up on me!! 😉
April A to Z Challenge is all my time favourite challenge. And the one this year has been extra special. It gave me a platform to connect and network with some really amazing bloggers from around the globe.  AJ, Beloo, Cat Graham, Debbie, Eli, Elly, Eloquent Mind, Genevive, Inderpreet, Janaki, Jyotsna, Kadambari, Kathy, Keith, Lata Sunil, Lisa, Little Princess, LuAnn, Nisha, Parul, Prasanna, Rachna, Rajlakshmi, Roshni, Ruchi, Sanch Living Life, SG, Shailaja, Shalini, Shantala, Sheethal, Soumya, Sulekha, Sundari, Susan, Suzy, Swathi, Tulika, Ma'am Usha Menon, Vidya, Vinitha, Vinodini, Vishal, Vinay…
And also that I really pushed myself this April. There were so many obstacles, so many challenges and that I conquered them all and posted all my posts at 12.01 am for each alphabet every single week day, fills me with pride and satisfaction, even today! April A to Z Challenge 2015 has been a great therapy!
A BIG THANK YOU to all who were part my A to Z journey which was full of feelings and emotions this year. Your support and encouraging words has meant more to me than you will ever know and I'll cherish that forever!  ♥