Kuwait Travel Diary
How does it feel to see the stamps in your passport or hear a different language as you deplane from the aircraft or see people from a different culture milling around you as you pass through the immigration lines at the airport?
It seems like a beginning of an exciting adventure from the start. Right!
That's how it happened for me, when I came to Kuwait one and a half day ago.
It's my first visit to this country  and I am all set to soak anything and everything the place has to offer.
It is an official visit, but I will get plenty of time to explore the city… fingers crossed. I am so looking forward to it.  Here are a few things that I plan to do while in Kuwait.
Eat Local Food : Kuwait is non veg eater's paradise. I am not a big fan of non-veg actually. Given a choice between veg and non-veg food, I'd pick veg, always. And here I am in this new country and meat has been on my plate for all the four meals up till now. And guess what, I am loving it. Yesterday we went to an Arabic joint and thanks to Fatayer Lahme  along with Fatayer Jibna and Fatayer Zaatar, I never knew that I had an adventurous palate. And I am looking forward to more such tempting and tasty adventures.
Soak in the Sights : Of course, wherever I look, a new things are coming in my line of vision.  City roads like our expressways, fast moving traffic, left side driving, virtually no two wheelers, beautiful buildings and houses, men is long thwabs and women in abayas (and I must add here that they all are so beautiful and fashionable!) are simply fascinating.
Learn : Though most people speak English and we have met quite a few Indians, Pakistanis and Bangladeshis in and around our hotel who are so happy to speak in Hindi with us, I am however keen to learn a few sentences and phrases in Arabic.
Like yesterday, we were in this market and I met this friendly old man.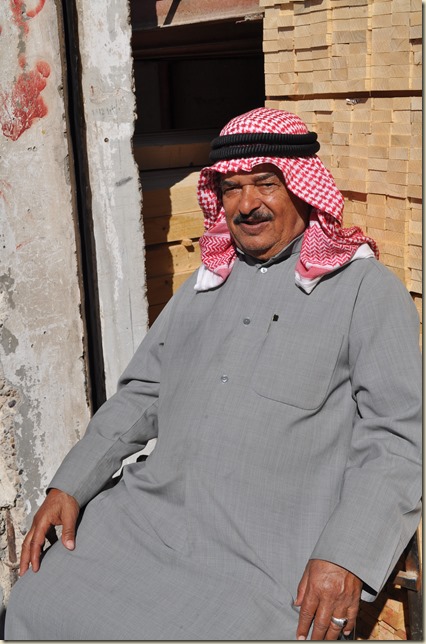 He asked me something in Arabic and I drew a blank. Another person translated it for me and we got chatting. And it was fun talking to him and in the process picked up a few Arabic words. It's interesting that it is similar to Urdu which I am familiar with. For instance, a thank you is Shukriya in Urdu and Shukraan in Arabic.
I can see that the customs and traditions of the people in Kuwait are truly unique. I don't want to just observe these customs, I wish I could participate and be one of them as they follow them. I hope that gets ticked off from my wish list.
As I prepare for the unexpected and go with the flow in Kuwait, you have a great week ahead and keep watching this space for more updates and pictures from this sojourn of mine!