Hope #AtoZChallenge @AprilA2Z
My theme for this year's Blogging from A to Z April Challenge is Cultivating Happiness. Today, H is for Hope.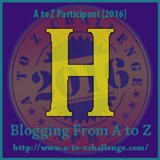 "Aah! I must get off the beaten path and travel the world. Explore some unusual places. Get surprised by the local food flavours. Network and gather experiences!"
"And we can work on the side and fund our travel too."
"We? What makes you think that we are doing this together?"
"Aah! I live on hope…"
A Word to the Wise
Never ever lose hope. Even in the darkest of times there is always that ray of light called hope.
You can check out my A-Z posts thus far by clicking on a highlighted letter!
A B C D E F G

H I J K L M N

O P Q R S

T U

W X Y Z