Gratitude #AtoZChallenge @AprilA2Z
My theme for this year's Blogging from A to Z April Challenge is Cultivating Happiness. Today, G is for Gratitude.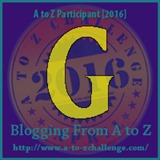 Hardships have hit me like waves lashing against the boulders.
One wave disappeared and another one shaped up to knock me down again.
They knocked the wind out of my sails.
Misery and disappointment followed me everywhere.
They changed not only me but my world.
Yes, they've turned the wounds into wisdom, struggle into sapience.
A Word for the Wise
Reminding yourself of what you're grateful for in life helps you appreciate what you have. A spirit of gratitude will bring us true joy and great happiness.
You can check out my A-Z posts thus far by clicking on a highlighted letter!
A B C D E F G

H I J K L M N

O P Q R S

T U

W X Y Z