Imagination #AtoZChallenge @AprilA2Z
My theme for this year's Blogging from A to Z April Challenge is Cultivating Happiness. Today, I is for Imagination.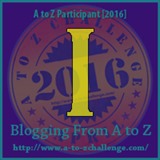 The room was silent, totally, in a hush like the air in the treetops.
They stood tall, motionless and emotionless.
The mood was pretty grim and gloomy.
A flurry of activity on the other side of the room, lifted their hopes.
Aha! Somebody would pick them up and imagine the world created by written words.
A Word to the Wise
Don't be afraid to get lost in your thoughts and let your imagination run wild. True happiness has more to do with imagination than circumstances.
You can check out my A-Z posts thus far by clicking on a highlighted letter!
A B C D E F G H I J K L M N O P Q R S

T U

W X Y Z