She Walks, She Leads
Title: She Walks, She Leads – Women Who Inspire India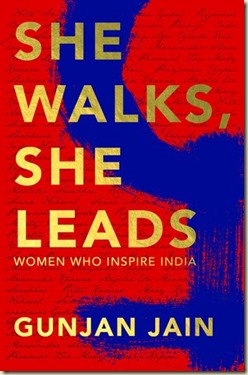 Author: Gunjan Jain
Publisher: Penguin Random House India
ISBN: 978-0-670-08885-0
Number of Pages: 556
Price [INR] : 799
Genre: Non-Fiction
The climb to the top in any field can be pretty tough – for anyone. But for women, this journey to the topmost positions of power and influence can be all the more challenging.
Today, we see women achieving success in every sphere of life and in some aspects they are more successful than men. While, we may recognize these women for their success and celebrate their achievements too, but how many of us know their sacrifices, the hurdles they crossed, and the battles they continue to fight and what it takes to reach where they are today. And She Walks, She Leads, does just that!
She Walks, She Leads, is an anthology of biographies of 24 women who are pioneers in their field. These are the women who overcame the barriers of patriarchy, broke the stereotypes, moved out of their comfort zones to make life meaningful not only for themselves but for others too and took the road less traveled and made it big.
The 24 women featured in the book are from various fields and are listed in six categories …
Altruism and Other Interests : Nita Ambani, Parmeshwar Godrej, Sudha Murty, Yasmeen Premji and Rajshree Birla
Corporate, Banking and Law : Indra Nooyi, Zia Mody, Kiran Mazumdar Shaw, Swati Piramal, Chanda Kochhar, Naina Lal Kidwai and Anu Aga
Fashion, Arts & Empowerment : Anamika Khanna, Ritu Kumar and Jyotsna Darda
Media : Shobhana Bhartia and Indu Jain
Sports : Sania Mirza, Saina Nehwal and Mary Kom
Entertainment : Priyanka Chopra, Kareena Kapoor Khan, Shabana Azmi and Mira Nair
Though we may know a bit about these successful women through their media mentions, but through her extensive interviews with these 24 pioneering women, Gunjan has shared with us all aspects of their journey. She Walks, She Leads not only celebrates the accomplishments of these women, but also gives us a peek into their childhood and its fond memories, family and relationships, their aspirations and passion, leadership and philanthropy, along with the ups and downs of their journey. We also get to know that apart from their talent and skills, what is it that makes them best in their chosen field and how do they manage donning so many hats successfully and comfortably.
The author has also interviewed the spouses, family and friends of these 24 women. As many as 130 contributors shared personal stories, insights and their perspective of these women.
All the life stories of these super achievers make for a very fascinating and an inspiring read.
As one reads the conversations of the author with these successful women, we realize that each one's story is unique with its own set of triumphs and tribulations, but there are some success values that are common to all of them. Gunjan has listed these life lessons and success mantras as…
Swim against the tide
Get out of your comfort zone
Stay positive
Never be complacent
Be an eternal student
Mentor and be mentored
Cultivate a social conscience
Strike a balance
She Walks, She Leads, also has coloured and black & white photographs of all the women from their different phases of life, which adds to the charm of this book. The 550 page hardbound book has an attractive cover. The writing in the book is simple and the extensive research done by the author is commendable.
She Walks, She Leads, is a perfect bedside table book to learn life and leadership lessons and seek inspiration from these legends of our times. A recommended read!