The Smitten Husband
Title: The Smitten Husband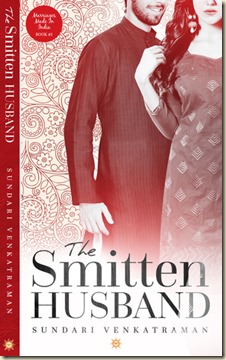 Author: Sundari Venkatraman
ASIN: B01I5FRJCI
Number of Pages: 104
Price [INR]: 120 (Kindle)
Genre: Contemporary Romance
The Smitten Husband is the eighth book authored by Sundari Venkatraman and is the Book#1 in the 5-novella series Marriages Made in India.
Sundari's earlier novella, The Runaway Bridegroom is about a Maheshwari family and has the love story of their daughter Chanda. The Smitten Husband is the love story of the eldest Maheshwari son, Ram.
Ram is a successful jewellery designer in Jaipur and lives with his parents and younger brothers. His parents try to arrange his marriage with the help of their family astrologer. Sapna, the eldest daughter of a poor priest in Pushkar near Ajmer.
One look into Sapna's grey eyes and Ram is lost. But Sapna who is a diehard romantic is unable to see the prince of her dreams in Ram. Being from a poor family, she has no choice but to go along with the tide when the Maheshwaris offer to bear all expenses of the wedding.
Sapna, who is fiercely independent puts forth a condition, after the wedding. Will the smitten husband agree to it?
The Smitten Husband is a breezy romance with some social messages. It brings to light the mental tug of war when the two families have a wide social divide and the dilemma of arranged marriage vs love marriages. The story gives a strong message about not compromising on one's dreams and aspirations.
The story is simple and flows effortlessly. The characters have different shades and that makes them pretty real. Ram is an obedient son and agrees to go for an traditional arranged marriage but is modern and sensitive enough to understand Sapna's frame of mind. Sapna is from a small town but knows her mind.
The pace of the story is fast and I liked the way the story unfolded. The chemistry between the two was explosive and the passionate scenes were sizzling hot. There is also a healthy dose of humor and engaging dialogues.
The only issue I have with The Smitten Husband is that it has no twists, pivots and turns to complicate the story. There's no, "Oh! Shit… What now?'" moments in this novella. The story unfolds in a predictable way. Nevertheless, The Smitten Husband will leave you with a lingering smile.
The Smitten Husband makes for a light breezy romance which I finished reading in less than an hour. Go for it, if you looking for a quick entertaining romance.


Facebook | Website | Blog Tours | Twitter | Pinterest | Linkedin