Instant Noodles Myths Debunked
When I think about instant noodles, some scenes pop into my head immediately: my son's face which lights up on hearing the word Maggi, midnight snacking with roommates during hostel days and the sight of Maggi Points en-route our journey in the hills.
At our home, Maggi noodles are our go-to meal to curb those in-between meals hunger pangs or when we want to cook something simple, easy and quick.
For us, Maggi noodles is a comfort food but usually our family and friends frown upon this ingenious convenient food. They say that it's unhealthy or that it is low on nutritive content.
I think it's time to debunk these myths and speculations about instant noodles…
Myth 1 – Instant Noodles are Unhealthy.
Fact – The thing is that most of us cannot think in shades of grey. For us, it has to be black or white, strong or weak, good or bad, healthy or unhealthy.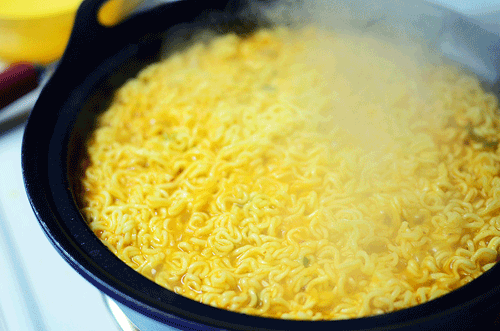 Actually, there is really no such thing as an unhealthy food, it is just unhealthy diets. If I were eating only instant noodles as every meal and every day, that would have been unhealthy. When I am eating the right amount for my body and getting plenty of nutrients by not limiting or avoiding food groups, I am having a healthy balanced diet. There is not a single food that can be labeled as healthy or unhealthy when consumed moderately.
A balanced diet and an active lifestyle is what really makes the difference.
Myth 2 – Instant Noodles have High Content of Fat and can cause Obesity.
Fact – It is recommended that in a day, 50-60% of total calories consumed must be from Carbohydrates, about 10-15% from Proteins and 20-30% from Fat.
It is interesting to note that Maggi Noodles has this in this very combination which is also in sync with the recommendations made by Indian Council of Medical Research. This combination of Carbohydrate, Protein and Fat is seen in all variants of Maggi Noodles including the recently launched Maggi Oats Noodles.
I read that:
"According to ICMR recommendation on Dietary Guidelines for Indians, the total Fat in the diet should provide between 20-30% of total calories. Depending on the level of physical activity and physiological status, the Fat intake in the diets can go up to 50g per person per day."
The Nutrition Information on the pack of Maggi Noodles shows the Fat content to be between 11-13 gms which is well within the recommended guidelines. This means Maggi Noodles contains just 1/5th of the daily fat requirement. It is much when compared to food you eat without thinking like a sandwich or pulao.
Coming to Noodles causing obesity. Well, obesity occurs due to excessive amount of Fat stored in the body and usually occurs due to inadequate physical activity, hormonal imbalance and unhealthy eating habits.
Myth 3 – Maggi is Fried.
Fact – To answer this, we need to understand the cooking process of Maggi Noodles. A Maggi Noodle cake goes through 5 step cooking process before it is finally packed which includes steaming, baking, frying, cooling and drying
So yes, it is fried, but that's part of its manufacturing process for packaging and a longer shelf life.
The Bottom Line
It's OK to have Instant Noodles for those in-between meals hunger pangs or camping trips or just like that, but do it in moderation. Hope this sets the tangle of instant noodles, straight.
So, when are you grabbing your next bowl of Maggi Noodles?