Ultimate Blog Challenge – July'13
This July, I am participating in the Ultimate Blog Challenge.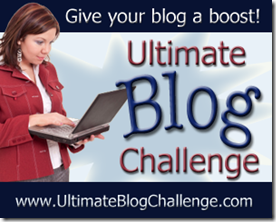 The Ultimate Blog Challenge is a virtual event for bloggers held every quarter – January, April, July and October.  The goal is to write and share a new blog post every day during the challenge month.
It's hosted by Michele Scism & Michelle Shaeffer, two entrepreneurs and bloggers who several years ago discovered the amazing power of blog challenges and decided to create the UBC to get more bloggers connected and motivated to succeed!
Why I am doing is challenge is because it keeps me excited and motivated and also to get into the habit of writing daily. Everyday blogging in July would be a true challenge, as I am travelling for work 2-3 times. My first trip is from 2nd July to 5th July!! But I am sure, I'll be able to schedule the 4 posts in these 2 days.
Shail Mohan, Kajal Kapur, Vidya Sury and Cynthia Rodrigues are joining in this fun of everyday blogging in July.
Would you like to join us too? If yes, all you have to do is…
Register as a Member here
Select your category and get Listed on the UBC Blog Directory, here
Join the Facebook & Twitter communities
Get great blogging tips and tactics : Yes, you will get blogging ideas everyday in your mail!
You are joining us?!
And wish us luck too 🙂