The Bestest Christmas Present
Vidya Sury, believes that happiness is celebrating with friends, family and community. So, when she turned 50 this year, she wanted to create something memorable with our writing group, the Write Tribe.  One bright and sunny day in October, she suggested that we at Write Tribe send the best or favorite posts from our blogs to her.
36 of us at Write Tribe scanned our blogs and shared one of our favorite post with her. Amidst her other commitments, crashing of her MS Word, and lots of edits later, her efforts resulted in something which has become a cherished possession, a dream come true for all of us!
Yes, our first ebook is out… the bestest Christmas present ever.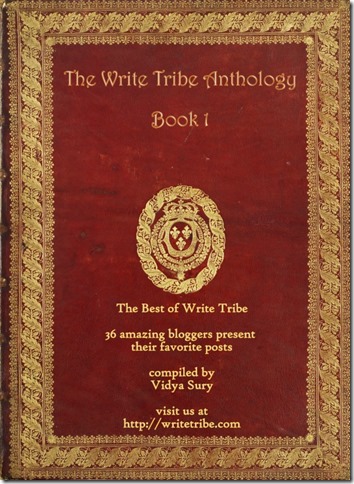 Thank you so much Vidya for making this book a reality for us. I feel so proud to be a part of this Book 1. Thanks are in order to Corinne and Vaisakh for all their support in the making of this book.
Go ahead. Click the image to download and enjoy reading The Write Tribe Anthology Book 1