11 Things Every Woman Should Write Down Before the Year Ends
Corinne, our wonderful friend, shared this empowering post with us, from Oprah which talks about the 11 Things Every Woman Should Write Down Before the Year Ends. I am list person, so sharing my story in this format appealed to me.
When the lovely and vivacious Richa tagged me in her post, I knew I had to list my 11 things before the year ends, too.
The post on Oprah's site says, there's no better way to celebrate the rich, full life you've lived so far—and the big, bright future ahead—than telling your story. I so agree with this, after all, life can only be understood backwards, in order to be lived forward.
So, here, I go with my 11 Things Every Woman Should Write Down Before the Year Ends…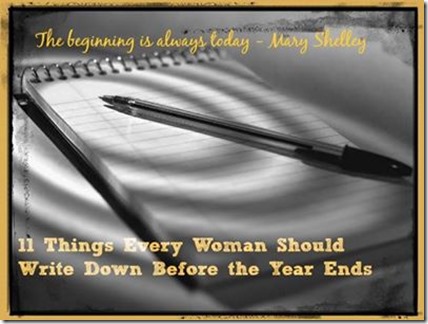 1. What Younger You Would Like About Present You
I believe, the thing that younger me would approve of the present me is having learnt to 'let go'. The journey to accept the things that I cant change and not getting too worked up over issues, has not been an easy one but then no exploration in life ever is. Over the years, I have learnt that if I cant change the thing I don't like, changing my attitude about it is certainly better.
2. The Watched/Read It List
I last book that I read was 'Aisle be Damned' by Rishi Piparaiya. I usually don't read non-fiction, but then I push myself to read it from time to time. And I am so glad that I read this one. 'Aisle be Damned' is a comical account of what to do and what not to do when travelling by air.
I am currently reading 'The Almond Tree' by Michelle Cohen Corasanti which is a brilliantly written novel. The story is about the Israeli-Palestinian conflict and reads like Khaled Hosseini's 'The Kite Runner'.
3. The Mistake You Never Want to Make
You get hit the hardest when the people you trust and love betray and run away when you are faced with life's trials and tribulations. Having experienced this from close quarters, I want to be there for my family and friends, when they need me, no matter how big or small their problem is, no matter how deep I am in my own troubles.
4. Your Ideal Outfit
It is definitely Tees and Denims. In fact, 99% 98% of the time, I am seen wearing these only.
5. A Deep, Dark—Shhh—Secret
I guess, my life is fairly an open book for the people who matter to me. So, 'a deep, dark – shhh – secret'… I guess, it is non-existent! And realizing this makes my inner life a bit more brighter and peaceful.
6. The Most Unexpected Compliment You Ever Got
I was traveling with my 45-days old baby from Mumbai to Jaipur. It was a hot and sultry day. The unusual delay in the flight take-off coupled with the then shut air conditioners made the aircraft a hot stuffy cabin. (The air conditioners in the aircraft were switched off and were to restart only after the take off).  I don't know what was the cause, but the little baby in my arms cried, howled, wailed, shrieked at top of his small but powerful lungs… non-stop. The brand new mother in me tried her level bestest to calm the child. But all my efforts of cooing, feeding, changing his position in my arms, loosening his clothes, fanning him… failed. Though I refused to make eye contact with the fellow co-passengers, I could sense their irritation and feel their stares and hear their exaggerated sighs. I was nervous and ready to burst into tears when my co-passenger who was sitting patiently all this while, said, "You are doing great."
I knew, I wasn't doing great at that moment but in an instant I felt more confident, more self-assured… and incredibly motivated.
Remembering this unexpected compliment at the most unexpected time, lights up my day, always.
7. That One Quote
Whatever goes around comes around. So keep your circle positive.
8. The Best Surprise You've Ever Had
When I meet friends and acquaintances, usually, I have to explain what a blog is and why I blog etc etc. Recently, there was this Diwali get-together in our apartment complex. Now, usually, I meet my neighbours only in the lifts or corridors, when I am either going out or getting back in.  So, there was this lady, who was 'complaining' about my absence in their daily evening get-togethers. So, another lady whose son is Aaryan's friend, replied before I could respond, "She is very busy. She has a blog and writes so well." I was pleasantly surprised as I had never spoken about my blog with her. She then shared about some of the blog posts she enjoyed. Needless to say that I was on cloud 9.
She revealed that Aaryan had once told her about my blog, so she searched my blog and has been a silent but active reader since then.
9. Your True Happiness
That moment when the maids have gone, the boys are at their respective work places, the last of the chore has been done, the home looks spotlessly clean and all things are in place, my 'Me Time' of few minutes, before I lock the door and go out myself for work  – sitting in my favourite corner with laptop or a book or sitting idle just like that and a hot mug of tea… total  bliss… my best part of the day… my little island of solitude in a day.
10. Your Favorite Failure
A bad phase in business was the bestest teacher. It made me realize that real things do come out from fake friends… real lessons.
11. An Amendment to the Bucket List
My Bucket List looks great as of now. Only amendment I must do is that I must prioritize certain things from the long list. And learning to bake should be in the forefront. Though my interest in regular cooking is waning at a brisk pace, baking cakes and muffins is something that I am very keen to explore and experiment.
I am so glad that I listed these 11 things… gave me a kind of fresh and new perspective on where I was, where I am now and where I plan to go. Filled me with so much of determination and optimism.
Compassionate and creative, Vidya spearheaded this series and is the first in the chain. She then added dear Richa who then made me the 3rd link in the chain. I now pass on this to dear friend, the bubbly and wonderful Meena. So, over to you Meena, go ahead and share your life and extend this chain of love.