Life Mantras by a Life Coach
Title: Life Mantras by a Life Coach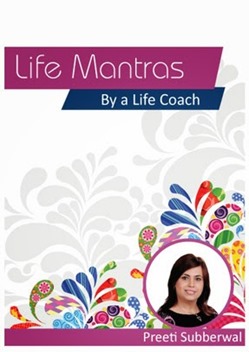 Author: Preeti Subberwal
Publisher: Power Publishers
ISBN: 978-93-83271-66-5
Number of Pages: 122
Price [INR] : 385
Genre: Self Help
Life Mantras by a Life Coach is a complete handbook of profound life lessons. It is a known fact that we all aspire to live a life of happiness. It is said that each one of us have a house with four rooms, a physical, a mental, an emotional and a spiritual. Most of us tend to live in one room most of the time but, unless we go into every room every day, even if only to keep it aired, we are not a complete person. So the author focuses on all these 4 rooms i.e. physical, mental, emotional and spiritual in order to live a life of  calm and peace along with a stable state of mind, regardless of outer events.
When we focus on all these aspects we get a feeling of inner-strength and fulfillment which is strong enough to move mountains. Following these life lessons empowers us to make a positive difference in our lives and those around us.
The book has 10 chapters with one page pointers containing life lessons, covering the 4 dimensions. The life lessons are simple and concise which we all know as they are the words of wisdom that we come across frequently.
While all this is really good, I wish the book had examples from the real life or interesting anecdotes or how to apply these life lessons practically. Somehow, without the practical examples, the book sounds too preachy.
The book has glossy paper with full colour pages and is aesthetically designed, which is a visual treat.
Overall, the book is all right. If you are looking for insights on every aspect of life, go for this book.
Rating : 3/5
"This book review is a part of The Readers Cosmos Book Review Program. To get free books log on to thereaderscosmos.blogspot.com"
Linking it to January 2014 Ultimate Blog Challenge and NaBloPoMo
To read posts by fellow friends and UBC and NaBloPoMo participants, click here Jairam, Kajal, Kathy, Michelle, Nabanita, Richa, Suzy Que, Sheethal. Yes, we can do we with some more cheering and support.