Done With Men
Title: Done with Men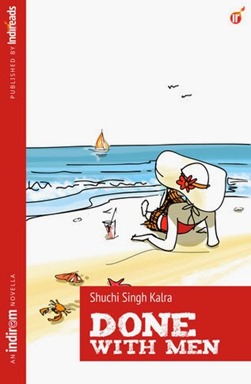 Author: Shuchi Singh Kalra
Publisher: Indireads Inc.
ISBN: 978-1-927826-32-4
Number of Pages: 159
Price [INR] : 175
Genre: Fiction (Romance)
Type : e-book
The Blurb : Travel journo, Kairavi Krishna (Kay) has had it with men. After a series of disasters (losers, philanderers, leeches, mama's boys and possessive psychos), she is all too tempted to walk out on the prospect of ever finding love. Accompanied by her best friend and flat-mate Baani, she sets off for Goa, hoping to get away from her miserable love life and vowing to stay clear of the male species.

Goa however, has a host of surprises in store for her. Ricky, her pesky ex-boyfriend, is busy painting the town red with his hot new girlfriend. Now what is poor Kay to do, other than overdose on vodka, smoke pot, get an outrageous tattoo and fall off the hotel balcony? She wakes up in the hospital to the tender ministrations of Dr.Vivian D'Mello–young, suave and handsome as hell. Will Kay stick to her guns or will she fall for his ridiculously sexy charms? And what's up with the mixed signals he's giving out?
I started reading this book one afternoon and got up only when I finished reading it, which was in a couple of hours. All through these few hours I was smiling or laughing out loud. The book got my attention as soon as I read the first acknowledgement and when I moved to the first line of the story, I was hooked.
The book is written in an easy conversational style and is witty, humorous and such a fun read. The plot is well woven with a lot of twists and unexpected turn of events. The language is simple and the narrative flows smoothly and effortlessly.
The characters are realistic and one can relate to all of them. I loved the conversations Kay had with the Thought Bubble, her inner voice. It confirmed her suspicions, reprimanded her, schemed with her and sometimes, did a swell job of de-cluttering her head and letting the sunlight shine through too and sometimes gave her a 'meh' look and floated away into
oblivion!!
There is not a single dull moment in the story as the bold, confident and daring adventures of the quirky and charming Kay kept me entertained and glued to the book.
Overall, Done with Men is a fantastic debut novel and is definitely a must read if you are looking for a refreshing, light, fun, breezy rom-com.
Rating : 4/5