An Affair to Remember!
Title: An Affair to Remember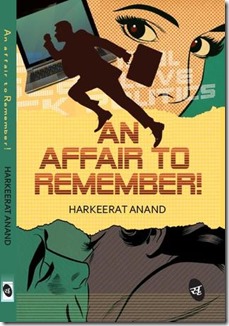 !
Author: Harkeerat Anand
Publisher: Srishti Publishers Distributors
ISBN: 978-93-82665-14-4
Number of Pages: 155
Price [INR] : 100
Genre: Fiction/Mystery
Filled with cheesy motivational posters, computer workstations crammed side by side, dumb bosses / blonde's and bored employees looking for a career change – ABCDEF Corp., a software giant, rankles with a sameness of a suffocating software giants existence. Until one man and his best friend take things into their hands.

What follows is a series of misadventures, flushing both men down a pink-caked urinal of self-destruction. Set in a city that once was, in an IT giant that once was, the two men journey through a cobweb of friendship, ambition, embezzlement, crime and most importantly, love.

Will they survive ABCDEF Corp.? More so, will ABCDEF Corp. survive them?

Peppy, wild and bitterly sarcastic, An Affair to Remember! is a modern-day retelling of a decades-old classic.
Before reading An Affair to Remember!, I was debating between the two books, I had in my hands. I read the first page of An Affair to Remember!, which is a few lines on 'Dedicated To' and I smiled. Then I moved to the second page which is a sort of warning and the book in my hand got a bit wider smile and when I read the prologue, which is aptly titled 'Before the madness begins', there was no doubt in my mind about the book that would be taken up for immediate reading.
As I started reading An Affair to Remember! I found it to be an entertaining, delightfully light-hearted and fun and funny, witty and sarcastic, with an interestingly regular plot and equally regular characters.
The protagonist of the story is stuck in a mundane repetitive office job in a dream company with ineffective and inefficient managers, long hours, the farce of performance appraisals and no growth in sight. Then, when he sees people 3-4 years younger to him, MBAs all of them – earn thrice as much as him, get better sounding designations like Junior Deputy Assistant Vice President, all that occupies his mind is "God! I have to get out of here!"
And then he and his friend do try to get out of this giant software company but in style and that's what An Affair to Remember! is all about! And of course, there's an affair with a magical beauty of his dreams too.
While initially funny, I almost got tired of it, to put it down for a short while as I felt that the storyline had lost its steam, but there was just enough hope to keep me going. I'm glad I did. After some time, the plot picked up its pace and the story ended in a very unusual manner.
This book is a nice read, written in a very clear and engaging style. Also that is just 154 paged story which has oodles of wit and sarcasm, An Affair to Remember! is a quick read that will make you smile and laugh too.
Rating : [usr 3 text="false" size=20]