Butterfly Season
Title: Butterfly Season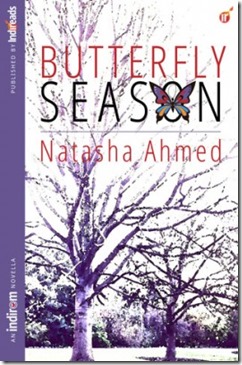 Author: Natasha Ahmed
Publisher: Indireads Inc.
ISBN: 978-1-927826-55-3
Number of Pages: 169 (Estimated)
Price [INR] : 213
Genre: Fiction, Romance, Contemporary
Type : eBook
On her first holiday in six years, Rumi is expecting to relax and unwind. But when she is set up by her long-time friend, she doesn't shy away from the possibilities. Ahad, a charming, independent, self-made man, captures her imagination, drawing her away from her disapproving sister, Juveria.

Faced with sizzling chemistry and a meeting of the minds, Ahad and Rumi find themselves deep in a relationship that moves forward with growing intensity. But as her desire for the self-assured Ahad grows, Rumi struggles with a decision that will impact the rest of her life.
Confronted by her scandalized sister, a forbidding uncle and a society that frowns on pre-marital intimacy, Rumi has to decide whether to shed her middle-class sensibilities, turning her back on her family, or return to her secluded existence as an unmarried woman in Pakistan.

We follow Rumi from rainy London to a sweltering Karachi, as she tries to take control of her own destiny
Butterfly Season is  story of Rumi, a 30-something woman from Pakistan, who has spent the last 6 years caring for her ailing mother. She's in London after her mother's death, visiting her younger sister and old friends. Rumi has been a 'good' girl all her life, a dutiful daughter, a loyal friend. The kind of woman everyone gets along with and whom you don't expect will cause any waves. But then she does, when she falls in love with a very charming and compassionate Ahad whose eyes are forever twinkling with amusement! (I'd like to meet Ahad in real life, of course only to see that amusement in his eyes!) And all this happens much to the chagrin of her younger sister, Juveria.
The story in Butterfly season gives a glimpse of the values and culture followed by an average middle-class Pakistani family. The story highlights the issues that affect Muslim women regardless of age, social status, educational qualification or professional expertise, country they live in, despite the modern times we live in. It showcases the desire of freedom by the Muslim women to fly like a butterfly against the blue sky and to follow their heart! This story is a leaf from real life and most women can relate to it.
Butterfly Season has well-thought out, unique, strong and engaging characters. Almost all the characters are well etched out. Juveria even with her twisted thinking is convincing! The conflict faced by the characters which adds to the drama in the story-line is brought out well. The writing in the book is simple and honest.
With a strong theme, a fascinating plot and an engaging style, Butterfly Season is an enjoyable read.
Rating : [usr 3.75 text="false" size=20]
Linking this to July 2014 Ultimate Blogging Challenge and NaBloPoMo