Online Book Shopping @ Zoutons.com
When I first forayed into online shopping, I started with books. Even today, books remain my no. 1 choice for online shopping. I believe books are the safest and the most easiest items to shop online. And when one shops online so much for books, deals and offers are important too.
I came across, Zoutons.com, which is a coupons and deal aggregation website with the tagline "The Loot is on", helping online shoppers and deal hunters to locate latest coupons and offers from a vast pool of online retailers and brands.
On clicking the Books category at Zoutons.com, one gets the various deals and coupons from various online book stores viz Snapdeal, Amazon, Flipkart, Infibeam, Paytm etc.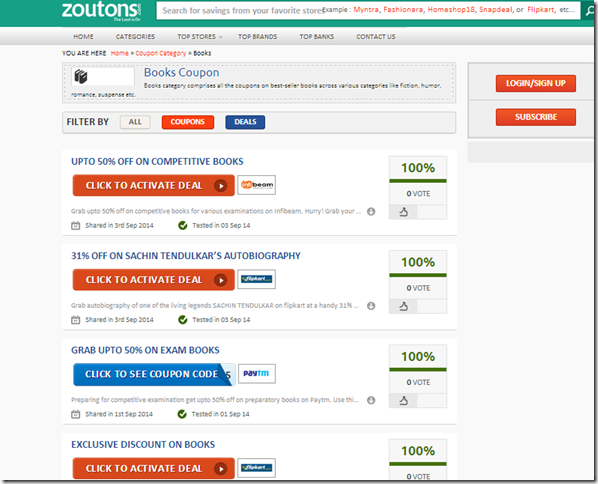 Currently there's up to 60% off on bestsellers at Amazon and up to 50% off on Competitive and Exam Books. Now isn't that a loot!
Basically, the books category section at Zoutons is one-stop-shop for deals and coupons for shopping of books online. Convenience and cost-effective deals at the click of a button! Cool
So, next time you are looking to indulge in some online book shopping, all you need to do is login to Zoutons.com.
Happy shopping! And happy reading!