India Was One
Title: India Was One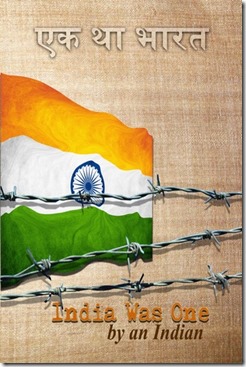 Author: An Indian
Publisher: CreateSpace
ISBN: 1450543332
Number of Pages: 370 (Approx)
Price [$]: 14.95
Genre: Realistic-fiction, Contemporary
…Suddenly, he saw something shiny at the bottom of the abyss. He squinted his eyes to see what it was. He ran back to his binoculars and turned them to see what it was. Sharp barbed wires that separated the two mountains came into focus. He had come as far as he could in his country. But she was standing in another country.

He was in South India and she was in North India…

Have you ever imagined India being divided into two countries? What happens to the millions of Indians who are from South India but are now residing in North India? Kaahi & Jai were two such people who got trapped in this situation. Everything was going smoothly for them and suddenly, their world turned upside down.

How will they get together? Will India become one again?

Take an exciting journey with them from their college days in Mumbai to their life in the US and back to India when they find out that India is divided.
India Was One is a story of five college students who bond over chai and samosas in the college canteen. Of these five friends, Jai and Kaahi fall in love and get married later. The story takes us from their carefree college days to their career choices, marriage and finally to Los Angeles where Jai manages his father's LA office. All was going on well, when due to civil unrest, India is divided into two countries : North India and South India. Jai and Kaahi decide to go back to their parents but they can't travel together and have to stay separately in the two new countries as Kaahi is from North and Jai is from South India. The very thought of our country being divided like this is scary!
India Was One is written by an Indian who is passionate about his country. His love for the country shines through in the entire book, as he explains the various cultures, traditions, people, places, daily lives of people, food, festivals, weddings, as part of the story. The final chapter is a thought provoking one, where he raises questions like 'What is being an Indian? Is it religion? Or language? Or cultures and customs? Or is it just a state of mind? Is it just a way of life?' …
While I liked the thought behind this story there were a few things that didn't work for me in this book.
The detailed explanations of everything about India was a bit too much.For example, the explanation about Tamils (Tamils, also called Tamilians are a linguistic and ethnic group native to the southern Indian state of Tamil Nadu. They speak Tamil which was the first Indian language to be given classical status.) or Kolkata (

Kolkata is in the state of West Bengal where the primary language is Bengali. The Bengali people are native to the historic region of Bengal (now divided between Bangladesh and India). Although the name is West Bengal, it is in the eastern part of India

.) or even Cricket (When it comes to cricket, not only everyone in the room, but a lot of people in India become superstitious. Some who are atheists become religious and start praying to their gods for India to win. Some give up their favorite food or drink item, and some fast for a day. Sometimes, when a match is going on, people who are watching it on TV don't change their seating position, fearing that if they do so, it might somehow jinx the Indian team.), may be interesting and insightful for a person who doesn't know much about India. But for others, the information provided was not new or enlightening.
I would have loved to read about the whys and hows of the civil unrest and the division of the country into two parts.
The usage of hindi script and its translation in English and then its English meaning viz भारत माता (Bharat Mata – Mother India), disrupted the reading flow.
The language is simple and lucid and the narration is vivid. The visuals at the beginning of the chapter are lovely and the editing is good. India Was One is definitely a recommended read especially for those who would love to explore the traditions, culture, customs and rich heritage of our country through a nice love story!
Rating : [usr 3 text="false" size=20]