Full Circle
Title: Full Circle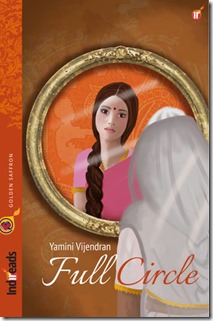 Author: Yamini Vijendran
Publisher: Indireads Inc.
ISBN-13: 9781927826119
Number of Pages: 99 (Estimated)
Price [INR] : 119
Genre: Fiction, Romance
Type : eBook
Malini is a sixty plus woman, who has fulfilled all her responsibilities. For more than fifty years she had been there for her family. First for her father and brother in her paternal home and then for her husband and son in her home. She had worked tirelessly to make her family happy and comfortable. Now, ever since her husband's death, a year ago, an unsatisfied yearning continued to haunt her. A yearning for all that she had lost in her native place, Kumbakonam. She wanted to find the answers and go back to her roots, before the last stop of her journey.
Malini's  doting  son, daughter-in-law and grand daughter, could not comprehend why she had set her heart on settling at a retirement home. But soon they let her follow her heart.
On reaching, Kumbakonam, life comes full circle for her as she meets her lost love. Is it late to reconnect with a long lost love? Well if you don't try, you'll never know. And you'll never know what happened to Malini and her first love, Ranjan, till you read, Full Circle.
Full Circle is a mature love story and takes you back in time where love and its expression was so simple and pure and was so different from the times today. It is a heart-warming love story that also gives you a glimpse of life, culture, traditions in the South of India.
I liked Yamini's storytelling skills and it definitely worked for me. It kept me engaged and completely interested and this is when I could guess how it would end. The climax seemed to be a bit rushed, though. I wish, there was more of it. And tying of the loose end through David was a bit hurried and forced.
Overall, Full Circle is a light breezy read that will touch and warm the cockles of your heart too!
Rating : [usr 3.5 text="false" size=20]
 This Tour is Hosted by 

Facebook | Website | Blog Tours | Twitter | Pinterest | Linkedin