Fraudster
Title: Fraudster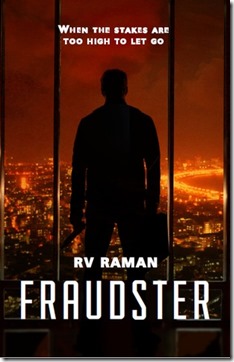 Author: RV Raman
Publisher: Hachette India
ISBN: 978-93-5009-800-4
Number of Pages: 288
Price [INR]: 250
Genre: Fiction/Crime
There are people who will do anything to silence the ones who come in their way, those who will stop at nothing, including murder.

A young banker is found dead a day after she deposes before a commission investigating large-scale financial fraud…
A doyen of corporate India falls to his death from his south Bombay flat…
A high-security server room of a multinational accounting firm is hacked and the hackers aren't looking for just company secrets…

Illicit finance, high-stakes crime and vicious manipulation come together in this story of corruption, greed and treachery among corporate India's black sheep. Arresting, fast-paced and written by an insider from the corporate world, Fraudster will keep you on your toes till the very end.
Fraudster is a suspense-charged financial thriller that exposes how the banking scams really work. The story in the Fraudster starts with a bang, I mean a brutal murder. Then a few pages down the book, another key character is dead. And, this really was shocking and then there was no stopping, as I was glued to the book till the mystery was solved. The author has created such riveting scenes that transports the reader in you directly into the story.
Fraudster is a story about high finance and banking. It is about hunger for money and murders. It is about the skilled, sharp and shady characters who operate in the world of white collar crime… and scheme to get away with it. It is a well thought out story that is very believable and authentic.
What I liked most about this book is the insider's perspective on the how the small promoter-held companies obtained big loans from banks and then their inability to pay back the loans resulting in subsequent huge losses for the banks. The fact that the author explained the complex financial systems and workings in a way that a reader who may not have much exposure of this field was able to grasp the proceedings easily, is simply commendable. So, one gets to know the details of hacking, audits, Blackberry mails, server back-ups, tracking of cell phones through cellular tower locations… Also, the author was successful in keeping the suspense alive that lived right through the end of the book.
The characters are strong and complex. The plot is solid. The story line is nicely paced. The dialogues are engaging. And then there are also chases, hacking, lies, good guys and the bad guys and some very unpredictable cat-and-mouse games. The voice of the author is succinct and lucid and written in a no-nonsense manner.
Fraudster is a compelling and credible financial crime thriller that is really hard to put down. Highly recommended.
Rating : [usr 4 text="false" size=20]
 This book review is a part of The Readers Cosmos Book Review Program and Blog Tours.  To get free books log on to thereaderscosmos.blogspot.com