Quikr : Buyer aur Seller ka Perfect Match Maker
Classified advertisements! These words were first associated with the Sunday Newspapers. Matrimonials, job vacancy, buying-selling of real estate would dominate the classifieds then.  And soon, the classified ads started appearing almost everyday in our newspapers. And today, in the era of e-communication, online shopping, social networking, our world has shrunk to the click of a mouse or a tap on a touch phone. So like all other web-based activities, the online classified ads in India has gained acceptance and immense popularity too.
While, I frequently shop online from various portals, I had not explored a classified advertisement portal till a few days ago. I assumed (which was a silly thing to do!) that on these online classifieds platforms people ONLY sell personal goods that they don't need or use. I am apprehensive of buying used, howsoever good or new, products. And for this reason I stayed away from the online classified ad platforms. Well, there are ads for 'don't need or use' products but there are classified ads from dealers, wholesalers, retailers, manufacturers as well!
And this new insight dawned on me, when I was exploring Quikr. After opting for Jaipur, which is listed among popular cities, from the 'Select Your City' drop down menu on Quiker.com, I saw 12 main categories.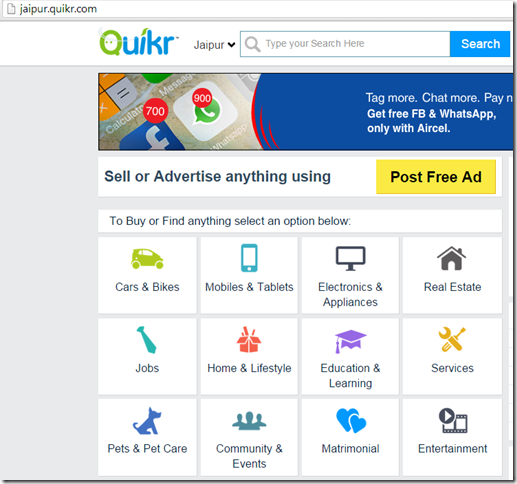 I was keen on exploring something from the Electronics & Appliances or Home & Lifestyle category.
After scanning the various sub-categories in the Electronics & Appliances or Home & Lifestyle section, I was amazed. I spent such a long time scouting with utter fascination, all the tempting items from the large variety of items in the various sub categories.
While I was browsing through these 2 categories, I saved 28 ads. I liked this option of saving the ad, which is akin to a wish-list and can be referred or checked later.
And then Aaryan, who was also checking the items on Quikr along with me, asked me to explore the Pets and Pet Care section. He was just back from a visit to our farm where our 3 pet dogs Copper, Carbon and Nickel live. He simply adores them and somehow can't get enough of them. Seeing his love and enthusiasm for our pets, without a second thought, I abandoned my pursuit of finding something suitable to buy in Electronics & Appliances or Home & Lifestyle category and I decided that we'd buy something for our three 4-legged best friends.
Carbon and Copper are our Doberman pups named after the metals and their colours. Carbon is black and Copper is reddish brown. Nickel, our Gray Mastiff has recently joined us. The poor boy was abandoned and was in a bad shape, till somebody dropped him at our farm. KG's love and care has healed him and he now doesn't leave KG's side even for a minute.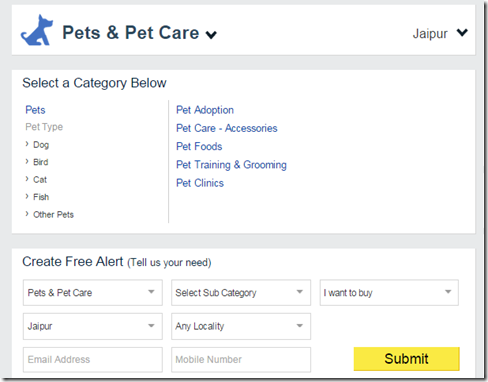 Pet adoption was out of question, as we already have 3 brats! And Pet Training and Grooming and Clinics were not appealing either. So we explored Pet Care – Accessories and Pet Foods.
After selecting Pet Type – Dog and then Pet Care – Accessories and Pet Foods, there were listing from a lot of dealers and suppliers. We narrowed down the search to the location near our residence and came across an advertisement from Prime Pet Shop, Mansarovar. On calling the phone number listed in the ad, a very courteous, Prashant answered our queries.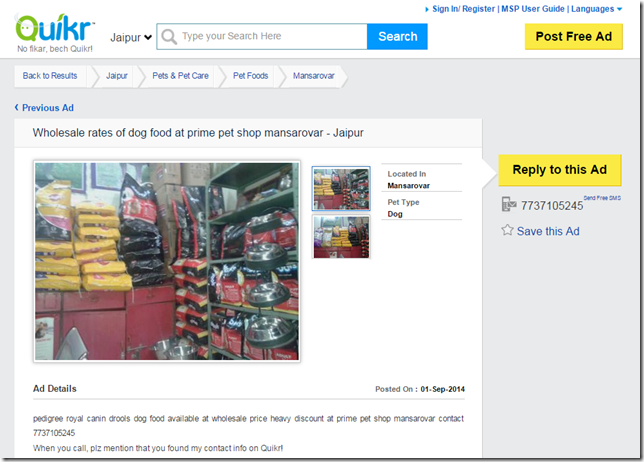 After fixing a convenient time (Yes, Prashant agreed to open his shop on a holiday (Bhai Dooj) for us!), we visited the Prime Pet Shop.
The shop had 3 varieties of Dog Food. We opted for the brand Drools.
We selected a 15 Kg and a 20 Kg bag for our pups.
The MRP of Drools 15 Kg Bag is Rs 2300 which Prashant offered it to us at Rs 1850.
And the 20 Kg Drools Chicken and Rice bag is priced at Rs 2400 which cost us Rs 2050.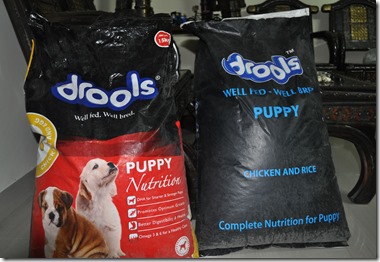 While, I was checking and comparing the various brands of Dog Food, Aaryan selected some Puppy Collars for Copper and Carbon and metal chains for all three of them.
The MRP of 2 Collars was Rs 120 each, which was billed to us at Rs 80 each. The thick metal chain which we bought for Nickel was priced at Rs 350 and the 2 the small chains for Copper and Carbon had an MRP of Rs 250. We got a discount of Rs 100 each on all the 3 chains. So, with all these items, we had done shopping worth Rs 4610 for our pets.
Then we saw the chew bones and picked 3 packs. These 3 packs were for 438 but we paid Rs 390.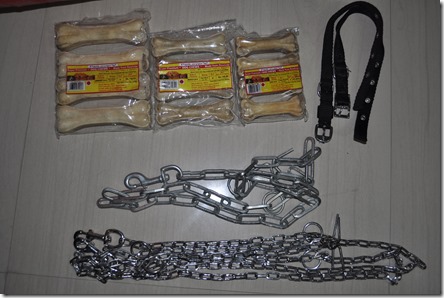 So for Rs 5000, we got 35 Kg of Dog Food, Chew Bones and accessories for our pets. As we loaded the stuff in the car, we couldn't help smiling with satisfaction at our bargain purchase.
Later, when we showed the goodies that we shopped for our pets to KG, and the prices at which we bought, he was impressed and remarked that it was a steal of a deal!
Needless, to say that we thoroughly enjoyed or shopping experience of buying through an advertisement on Quikr. The wide variety of products in various categories, the ease of shopping in an area near your location, the bargaining factor, which we all love and meeting the seller online but transacting offline after physically seeing the product is simply cool.
Also, after exploring Quikr at length, my apprehensions of buying somebody's 'don't need or use' product has disappeared too, as I saw that most of the products looked good. Of course, one always has the option of checking/testing the product before buying. I am now thinking of posting a free ad for our Treadmill which we don't use and is in a brand new condition but lying unattended in our store room.
Quikr is truly Buyer aur Seller ka Perfect Match Maker.
This post is a part of Quikr.com activity at BlogAdda.com