Against All Odds
Title: Against All Odds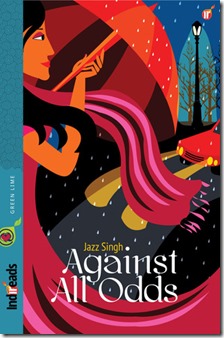 Author: Jazz Singh
Publisher: Indireads Inc.
ASIN: B00GFEVQV2
Number of Pages: 133 (Estimated)
Price [INR] : 150
Genre: Fiction, Romance
Type : eBook
Sanjana is a small town girl trying to find her feet in Delhi as an Interior Designer. She stumbles on something, loses her footing and slips in front of Abhimanyu's car. They get off on the wrong foot. He thinks of her as a con artist and she considers him as an arrogant and an insufferable man.
Was it coincidence or destiny but they meet again and again and eventually change their minds about each other. And fall in love too. Abhimanyu's mother dislikes their association and  points out the social differences between them and how Sanjana is so out of their league. In fact she even accuses her to be a social climber. Understanding her point of view, Sanjana vanishes from Abhimanyu's life. But will she be able to banish him from her thoughts? Will their paths cross again, someday? Will they ever overcome the odds?
Against All Odds has a classic plot of 'rich-guy-falls-for-poor-girl' with a spoilsport mother in tow. Sounds like a typical bollywood melodramatic movie? Right! But that's where the similarity ends. The characters of Sanjana and Abhimanyu look real. Their dilemmas, their inner conflict portrayed in  the story seems very realistic. In fact their romance develops slowly and gradually.
Against All Odds is a romantic story but has elements of suspense too. The twists and turns in the story make you wonder about will they/won't they get together. The chemistry between the duo is crafted well by the author and the dialogues are sincere and genuine. The only dampener were the final few pages. I wished that the climax was handled a bit differently. It appeared to be a bit clichéd and a bit abrupt!
A light, breezy romantic read, yes that's what Against All Odds is! Check it out!
Buy Against All Odds @ Amazon.in and Indireads
This Tour is hosted by
Facebook | Website | Blog Tours | Twitter | Pinterest | Linkedin