The Mouse Charmers
Title: The Mouse Charmers – Digital Pioneers of India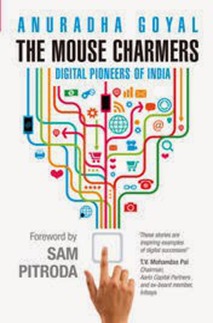 Author: Anuradha Goyal
Publisher: Random House India
ISBN: 978-8-184-00492-2
Number of Pages: 299
Price [INR]: 334
Genre: Non Fiction
The advent of Internet has been a significant game changer for our generation. Mouse Charmers are a new breed of entrepreneurs in emerging India powered by the Internet and the opportunities that it offers to create new markets and to cater to old markets in new ways. Some of them have already achieved success where they can be called iconic and inspiring while others have powerful ideas that put them on the same path.

Anuradha Goyal tells the stories of digital entrepreneurs like Flipkart, Zomato, ImagesBazaar, IndiBlogger; how they started out, the innovations and technologies involved, their business models, and unique marketing strategies. Inspiring and useful, The Mouse Charmers is an essential guide for aspiring entrepreneurs.
Internet has changed our life enormously. It has influenced all spheres of our life and has changed the way we live, interact, work and do business. Today, life without our multiple communication devices is unthinkable. Websites like Flipkart, Make My Trip.com, Zomato have become an integral part of our lives.
Thanks to the internet we have a new breed of entrepreneurs in India who have used the power of internet and have created new markets and also cater to the old markets in a new way. These young entrepreneurs have changed our image in the world from that of Snake Charmers to Mouse Charmers.
In her book, The Mouse Charmers, the author profiles the success stories of 12 companies which are the digital pioneers of India. These 12 companies are categorized under :
Commerce : Flipkart, Make My Trip, BigBasket, CaratLane
Content : Zomato, Games2Win, ImagesBazaar, Chai with Lakshmi
Connectors : Shaadi.com, Rang De, CommonFloor, IndiBlogger
The book gives some detailed insights on the business models of these companies, the innovation they brought about in their field, the differentiating factors, the journey so far and their future plans. It also shares the challenges and opportunities these first generation entrepreneurs faced during the course of time.
Reading The Mouse Charmers was an enlightening experience. The success stories, the strategies these young entrepreneurs used, what worked for them and what didn't made for a fascinating and an inspiring read. Anuradha's voice in the book is clear, concise, organized, and jargon-free. The book has facts and figures, tables and charts, graphs and infographics along with content that is taken from company websites, news articles, and in a few cases, conversations with key personnel of the companies.
The Mouse Charmers will not only charm and inspire the budding entrepreneurs but is a must read for all cybernauts out there!!
The review is part of IndiBlogger Book Review initiative.