Rescued by Love
Title: Rescued by Love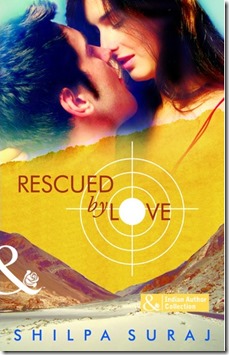 Author: Shilpa Suraj
Publisher: Harlequin India
ISBN: 978-93-5106-495-4
Number of Pages: 184
Price [INR]: 150
Genre: Romance
Naina, the only child of a Supreme Court Chief Justice, runs away from home to Leh, to avoid getting married to 'Fatty'. Fatty is chosen by her father to advance his political career.
She is kidnapped by terrorists and kept as a hostage, days before her father must sentence the leader of the terrorist group. Lt Col Arjun Rathore and his team  are sent on a mission to rescue Naina and bring her back to safety. And they do it with skill and tact.
As they trek back through the hostile terrain of Ladakh, Naina loses her heart to him. He is smitten by her too but turns her away for he believes that she is mistaking gratitude for attraction and also that she is way beyond his league.
Back in safety, the real world and its very real problems threaten – as do their own perceptions of the differences between them.
They must separate – but will life rescue their love?
Rescued by Love is Shilpa's second book. I have read her debut novel The Girl He Left Behind and enjoyed reading it! And what do I say about this one! Well, that I was simply blown away! I could not put this book down. My heart was racing through as I turned page after page and joined Naina and Arjun in their tumultuous love and life journey.
Rescued by Love is a heart-warming story of the power of love, parting and re-uniting in love and finding oneself in the process. I simply loved Arjun, he made my heart flutter madly too. Shilpa did a great job with his character! Naina's character as a strong yet sweet girl despite the odds against her has been etched out beautifully. Excitement, passion, wit and humour are woven in beautifully in the telling of this story. The development of the characters and the plot which is well written with vivid descriptions, pulls you in from the first page.
Shilpa's writing is amazing, I love the way she has written this story with passion and humour and with enough realism.
This is one book that you will keep reading way into the night and I am re-reading it again soon! And did I tell you that the first half of the book is my absolute favourite! The ending is a bit melodramatic for my taste but that's ok.
Rescued by Love is highly recommend for anyone looking for a refreshingly beautiful story with and some realistic romance and action!
Well done, Shilpa. I'll be keeping an eye out for your next book!
Rating : [usr 4 text="false" size=20]
Buy Rescued By Love @ Amazon.in and Flipkart
This Tour is Hosted by
Facebook | Website | Blog Tours | Twitter | Pinterest | Linkedin