Matches Made in Heaven
Title: Matches Made in Heaven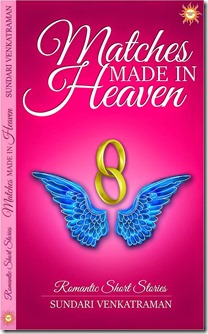 Author: Sundari Venkatraman
Publisher : Flaming Sun
ASIN: B00R7HDVIW
Number of Pages: 148 (Estimated)
Price [INR]: 61
Genre: Fiction, Romance
Type: ebook
A collection of 13 romantic short stories based in India; a culture rich country steeped in tradition. Inspiration struck me from newspaper articles, TV shows and hearing people talk. The short stories are based on that fact that arranged marriages thrive right alongside love matches in India.
Groomnapped is Ameya-Surekha's story as a light romantic take on the serious issue of groom kidnappings.
Dark skin on a woman puts off men in general or so says the society. Beauty Is But Skin Deep is Nitin-Simran's story that proves it wrong!
Ritu is twenty-five and wants to wait for her Prince Charming but her parents are desperate to arrange her wedding. Does she find her prince in An Arranged Match?
Dating Agencies are doing their best to get young people together to tie the knot. My friend Diti runs an informal one; inspiring the Red Rose Dating Agency.
A guy's complaint about his fiancée of a few years dumping him after becoming successful in her film career felt like a rant to me. Chahti Hoon Tumhe is an ode to the successful actress.
Soumya actually lives life like Soul Mates but how many have the guts to? This, incidentally, is the first short story that I ever wrote.
Does Madeinheaven.com help bring Menka & Jeetu together with technology driven Matchmaking website?
I originally wrote Rahat Mili for an anthology; Rahat means 'relief' and is a name too. Read the story with the word in mind and it will fall in place.
Reema's Matchmakers brings Arjun and Prisha together at a get-together through a matchmaking network. But will they get married?
Nikita wants Krish for a friend and not her husband. As The Reluctant Bride she manages to have her cake and eat it too.
Shweta Ka Swayamvar is inspired by the practice of Swayamwar in ancient India of choosing a husband, from among a list of suitors, by a girl of marriageable age.
Pappa's Girl is about daughters of Industrialists taking over fathers' businesses.
Mythology romances intrigue me; Love Match For Velan is my take on Lord Murugan falling in love with his consort Valli.
I like reading anthologies as they don't take much time and even if I pick the book after an interval of time, I don't have to re-read a few pages and the plot is never missed. Sundari's latest book, Matches Made in Heaven is a collection of short romantic stories.
This anthology has 13 stories, each running into a few pages. Each story is woven around that  blissful and warm feeling called love. The entire collection of stories in Matches Made in Heaven is entertaining and is lent extra freshness by the diversity of the characters, their situations, and the varied definitions of love. And in each of these short stories, the author made the characters come alive in such a small writing space, which is simply commendable. For some stories, though, I wished they had a bit more depth or were long enough.
I liked The Reluctant Bride the most. This story stood out to me as one of the more memorable tales. Groomnapped,  and Rahat Mili are other two stories that touched me.
Matches Made in Heaven strings together sweet tales of love, passion and desire that endures time. A perfect read for a lazy afternoon or just before going to bed. Go for it now, after all it's the season of love! ♥
Rating : [usr 3.5 text="false" size=20]
This Tour is Hosted by

Facebook | Website | Blog Tours | Twitter | Pinterest | Linkedin