Wrong, For The Right Reasons
Title: Wrong, For the Right Reasons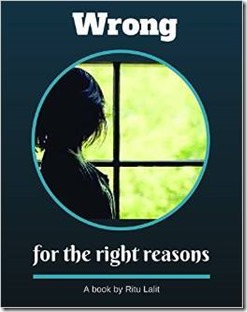 Author: Ritu Lalit
ASIN: B00NQC8THK
Number of Pages: 236 (Estimated)
Price [INR]: 186
Genre: Fiction
Type: ebook
Shyamoli Verma's timing is wrong. In her late twenties, she finds that her marriage is irrevocably broken. She comes back to her parents with her pre-teen son and an infant daughter, only to find that she is unwelcome.
Independent and brash, she decides to bring up her children and also get a divorce without any support from friends and family.

Written with wry self deprecating humour, this is the story of a divorced woman's quest for love and security.
I have been reading Ritu for a long time now. I enjoy reading her blog and liked her first book too. When I got an opportunity to read her latest book, which is getting rave reviews, I HAD to read it. And the story grabbed my attention from the word go!
Wrong, For the Right Reasons is a story about a woman's struggle to survive with her two children after walking out on her cheating husband. When Shyamoli along with her children Samar and Ketaki leaves her husband's home, she leaves a lot of things behind… a steady income, stability and sheltered life, friends and even family. Her own parents especially her mother is not at all supportive of her decision. According to her, Shyamoli should go back and apologize to her husband, as a divorcee has no respect and social status in the society. A chance meeting with an old childhood friend, Uma changes the path of her life. Uma helps Shyamoli to realize her true calling in life. Shyamoli resourcefully navigates a surprising avenue for making some money by baking cakes/breads and making oils/lotions at home. And that brings about some stability in life and pays the bills too. Life smiles once again on the small family but misfortunes find their way again in their life. The maternal fortitude displayed by Shyamoli helps the family grow strong through their life's battles.
Wrong, For the Right Reasons is a powerful story of a woman who defies all odds and realizes her true identity and succeeds. It sheds light on her pursuit to recover from life's trials and tribulations, to grow and to keep loving when an avalanche of hatred and betrayals threaten her sanity. It is story where she rights her own situation without a knight in shining armour coming to her rescue.
What I liked about this book are a lot of things, actually. I liked the characters that are realistic, the story that is moving and inspirational and the writing style that is engaging and fluid. There are a few editing typos in the ebook version, but since the story was good so I skimmed past them.
Wrong, For the Right Reasons is a story that is not fiction. It is a story of real people with real horrors of life. It is a story of hardship, and endurance that inspires you to persist. It is a story that will stay with me for a long time! A must read!
Rating : [usr 4 text="false" size=20]
Buy Wrong, For the Right Reasons @ Amazon.in
This Tour is Hosted by
Facebook | Website | Blog Tours | Twitter | Pinterest | Linkedin