Breach
Title: Breach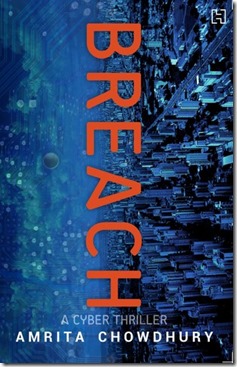 Author: Amrita Chowdhury
Publisher: Hachette India
ISBN: 978-93-5009-855-4
Number of Pages: 337
Price [INR]: 350
Genre: Fiction
How secure are your secrets in  the virtual world?

Weeks before pharma-giant Acel is ready to file a global patent application for cancer wonder-drug Colare, its offshore data center in Mumbai is hacked. The charismatic young leader of its Indian business, Dr Udai Vir Dhingra, finds himself blamed for negligence and the breach of security.

Battling market pressures, media scrutiny, livid American bosses and crumbling relationships, Vir must find the perpetrators or see his career – and his life- spiral downwards. But the deeper he gets dragged into the shadowy world of masked online identities and muddied digital footprints, the more Vir discovers that nothing is easy or obvious, and everything has a price.

Set across Mumbai, Washington DC and Guangzhou, Breach is a compelling and edgy thriller that explores the dark and dangerous underbelly of our increasingly virtual existence.
I had read some good reviews about this book and after having read it, I must say that it truly deserves it. Breach is a well researched, page turning, slick cyber thriller that keeps you glued till the very end.
Short chapters, each running into not more than two to three pages spread across various locations bring in multiple characters and take the story ahead at a fast pace. I have seen this style of writing in Ravi Subramanian's books. It took me a few chapters to grasp what was happening, but soon it was easier to get into the flow of the story.
The information on hacking into a safe server, counter surveillance, crisis management and incident reconstruction to uncover the modus operandi and business motives of the cyber-criminals and shady activities done esoterically and covertly in the pharma industry, cancer research, global corporate affairs, patent laws, is pretty interesting and informative. All this tech knowledge is shared in a language that a layman can understand is a plus in Breach. Also these tech details are woven in the plot in such a way that they don't overshadow the story.
Breach is an intelligent and flawlessly executed crime thriller which excites and agitates till the last page. A must read.
Rating : [usr 4 text="false" size=20]