C is for Confused #AtoZChallenge @AprilA2Z
My theme for this year's Blogging from A to Z April Challenge is Feelings and Emotions from A to Z in 55 Words. Today, C is for Confused.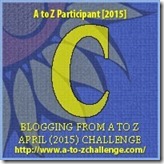 "What's the plan?", I asked.
He pondered for a moment and said, "I'd love to eat and play", with a mischievous glint.
"Play?", I asked sceptically.
"Yes, we'd start with the first base and finally hit a home run", he said with all seriousness.
I nodded foolishly. I'll have to look up the meaning later.
Join me in enjoying blogs from fellow A to Zers… Corinne Rodrigues, Cat Graham, Claudia H. Blanton, Cheryl Wright today! Do share some blog love with them too!