B is for Bitter #AtoZChallenge @AprilA2Z
My theme for this year's Blogging from A to Z April Challenge is Feelings and Emotions from A to Z in 55 Words. Today, B is for Bitter.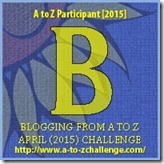 I saw her sitting on the stairs. I read her lips say, "Good dog" as she nuzzled his ear.
Laughter danced in her eyes and a smile tugged at her lips as he jumped all over her.
Aah! That smile!
How I wished she was dead, as a familiar feeling sneaked up on me, again!
Join me in enjoying reading the blog from fellow A to Zer… Bhavya today! Do share some blog love with her too!