A is for Awkward #AtoZChallenge @AprilA2Z
My theme for this year's Blogging from A to Z April Challenge is Feelings and Emotions from A to Z in 55 Words. Today, A is for Awkward.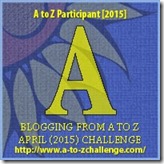 I am the go-to guy for my Mom regarding the slangs! She can AMA!
BTW, that's 'Ask Me Anything'!
Yesterday, she texted, "What's WTF?"
After an uncomfortable silence, I answered, "It's' Wow! That's Fabulous'!"
Had to change the track of our conversation, so I texted, "Let's go out for dinner!"
"WTF!!" she replied with a smiley!
Join me in enjoying blogs from fellow A to Zers… AJ Lauer, Arlee Bird, Arpita Mudit today! Do share some blog love with them too! 🙂