D is for Disappointment #AtoZChallenge @AprilA2Z
My theme for this year's Blogging from A to Z April Challenge is Feelings and Emotions from A to Z in 55 Words. Today, D is for Disappointment.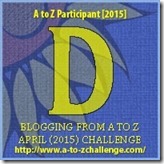 Something woke me up. Cautiously, I peered outside.
In a flash, he came out of the shadow to reveal his hideous face.
Our eyes met… his full of challenge and mine filled with fear.
Next moment – he's gone.
I checked the early morning news.
There wasn't any mention of the beast from last night!
Join me in enjoying reading the blog from fellow A to Zer… Debbie D, today! Do share some blog love with her too!